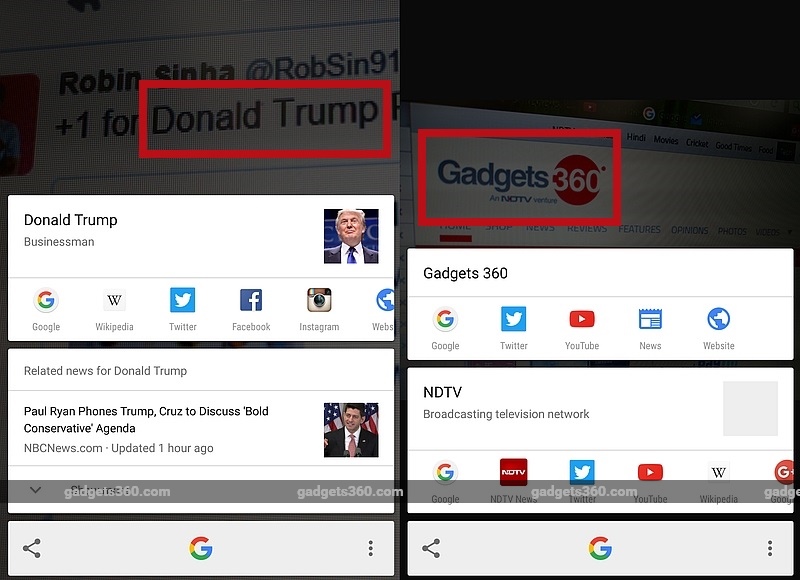 Google has quietly pushed out a new feature to its Google Now on Tap service – optical character recognition (OCR). The search giant additionally rolled out a small but useful feature in an update forGoogle Docs.
Initially spotted by some users on Reddit, the OCR feature on Google Now on Tap seems to be in its very early stages as it gives different results every time. Most of the times it does not deliver any results at all. All you have to do is to capture an image from the Android 6.0 Marshmallow based device's camera and simply scan it with Google Now on Tap feature. The service would then show you results or even recognise phone numbers from the captured image.
We tried the OCR feature on a Nexus 6P and it worked a couple of the times, as seen in the images above. While some Reddit users scanned a book and TV info and got the results, some scanned phone numbers and were shown a Google Card as a result. Google is yet to officially announce the feature and is possibly not promoting due to its unfinished state. Nonetheless, it is a welcome feature for mostAndroid users.
As for Google Docs, the search giant would now let you export your files as .epub files – a widely used open formats for ebooks. One of the features of .epub files are that they format according to the device's screen size, something missing in pdf file formats. The file is supported by almost all the e-readers in the market except for Amazon Kindle devices. Users can save files as .epub by going in toFile>Download as>EPUB Publication. The update will gradually reach all users in next three days.
Download the Gadgets 360 app for Android and iOS to stay up to date with the latest tech news, product reviews, and exclusive deals on the popular mobiles.