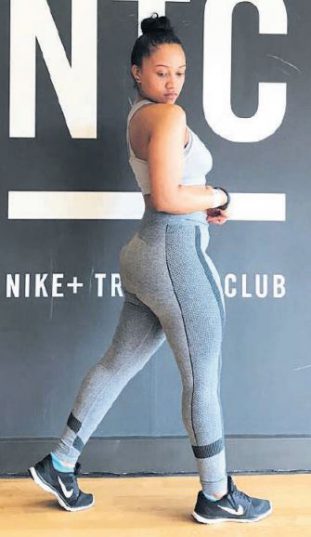 Kirby Johnson, face of Viva Gym and Herbalife distributor, made a conscious decision to change her lifestyle in 2005 and has not looked back.
Making a trend of healthy living, Kirby Johnson, 24, is a BCom marketing graduate who is employed in the media industry. "My heart's desire was one that included a lifestyle of health and fitness," she says.
After completing her degree in 2013, the passionate Johnson weighed 84kg. Shortly after that, she gained an additional 3kg while on her search for a job.
Finding it difficult to come to terms with her new weight, she made the conscious decision to change her lifestyle and has not looked back. "I decided to make a change on April 13, 2015. Now I am an independent Herbalife distributor, Face of Viva Gym and a juice fanatic."
The self-titled "juice junkie" has since put in the hours to maintain her newly honed body with the help of juicing and Herbalife products. "Juicing has become more than a hobby but a core ingredient in my fitness recipe to a better, fitter and glowing Kirby. It's so much fun experimenting with different fruits and vegetables in one juicing blend, learning the benefits of each ingredient and experiencing new life with each sip.
"My life consists of many tiers but the fundamentals are work, fitness and socialising."
1. What inspired your passion for fitness?
"Before being healthy and fit, there I was, fat, uncomfortable, drinking a litre of Coke every single day, not being able to wear certain clothes, lacking confidence and always feeling insecure around my skinny friends. Back in 2014, I went on holiday with a group of friends. It was festive season where one should be happy, cheerful and sociable.
There I was, uncomfortable in my own skin, always the one behind the lens capturing moments that are only memories now, never in front of the lens. Not long thereafter, I completed a Vitality test with my weight spiking at 84kg and my Vitality age at triple my age. That's where I received my wake-up call. I grew tired of offering to take the pictures; I wanted to be in the pictures!"
2.What is your workout routine?
"I try my best to train a minimum of five days a week and a maximum of six days. Mondays, Wednesdays and Thursdays I spend time at my second home, Viva Gym, weight training. Tuesdays – cardio day – I run at Nike Run in Rosebank, either 8 or 12km. Fridays I do Bodytec, activating 90% of my muscles and Saturdays I always try and alternate so I would either be at the gym (Bootcamp or weight training), Nike Training (focusing on strength, endurance etc), or Bounce Fit. Saturday mornings are made for exploring."
3. How did you become the Face of Viva and what does it mean?
"Viva Gym was running a competition where you were required to post three different selfies in the gym and state the area in the gym. The competition was really exciting as it served as motivation and I enjoyed interacting with the staff with regards to the competition and their motivation to enter.
Being the Face of Viva allows me to keep pushing myself beyond my limits, to be an example and motivation to others considering where I've come from, it allows people to seek help from me, which I welcome with open arms. Every day I'm learning something new and being able to share that satisfies me. My journey has opened my eyes to what may be my passion, which is fitness and health and being the Face of Viva is the best doorway I could ask for."
4. As a female, what challenges do you face?
"Society's body-shaming, the expectation to be shaped like the celebrities we see on television. The opinion that being skinny means that one is leading a healthy lifestyle, without considering genetics."
["Source-citizen"]