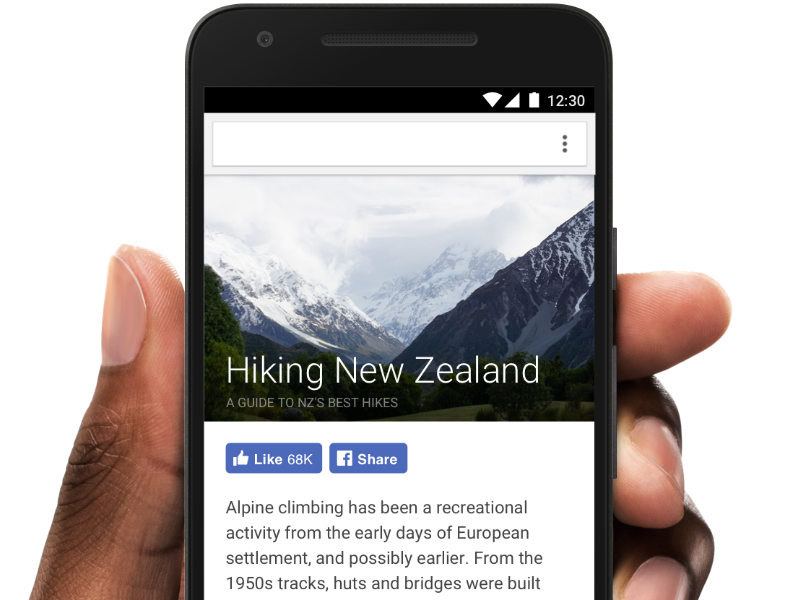 HIGHLIGHTS
The Like Button also integrates the count of likes
The redesigned buttons will show up on the app and desktop site
Facebook has also launched Share and Save extensions
Facebook has revamped its social icons. The company has introduced new Like, Share, Follow, and Save buttons for its desktop site and apps platforms. It has even introduced Share and Save Chrome extensions for saving and sharing content on the site, without having to open Facebook every time.
The traditional Like button had the 'f' icon with a bubble on top showing the number of likes on a post. The new button loses the 'f' and integrates the thumbs up, the count of likes, and the name all in one square button. The company has also transformed the Share and Follow buttons, which keep the lowercase 'f' symbol, but follow the same design pattern as the Like button. The Save button has its bookmark symbol intact too.

Facebook claims that these buttons have been transformed keeping in mind its mobile platform. The old design was originally made with the desktop site as focus, but now that mobile is the preferred choice of many users, Facebook went back to the drawing board and did a rethink.

The company also says that it did massive testing across varied geographical audiences before making these buttons live commercially. Hence, don't be surprised if you've seen these buttons before. For all those who don't have these buttons yet, it is important to note that this is a global update, and it will be rolled out to users gradually. Hence, it might take some time before it reaches you. The new buttons will also be introduced in Instant Articles in the coming weeks at the bottom of the page. In its blog postannouncing the changes, Facebook also said that during its testing phase, it found out that the likes increased by six percent with the new buttons.
Facebook has also announced two new Chrome extensions. The Save extension not only lets you save links to Facebook without opening it, but it also lets you access the most recently saved links. The Share extension opens up a pop-up dialog box in Chrome that lets you share the link on the timeline, send it via a private message, share it on a friend's wall, or even share it in a group. It even allows you to add text to the post before sharing.
Download the Gadgets 360 app for Android and iOS to stay up to date with the latest tech news, product reviews, and exclusive deals on the popular mobiles.
["Source-Gadgets"]