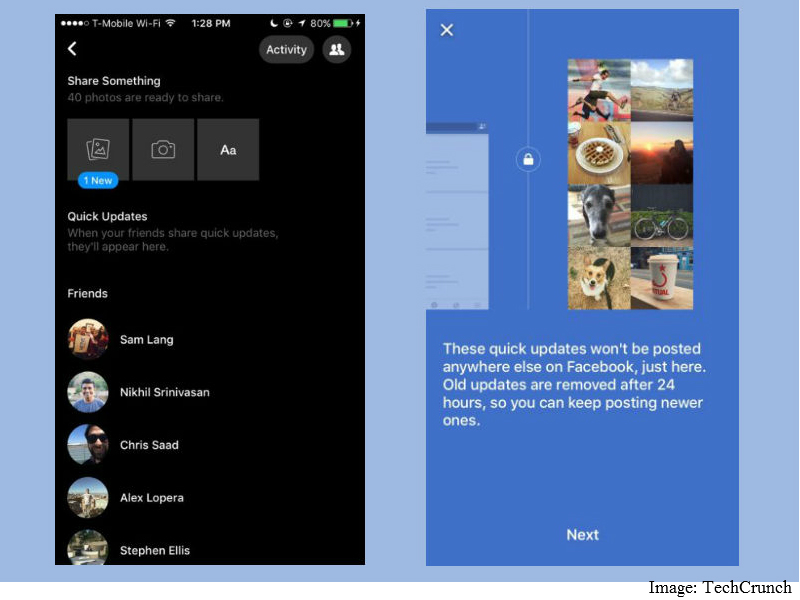 HIGHLIGHTS
Quick Updates allowed users to upload photos and videos
The post disappeared after 24 hours just like Snapchat
Facebook was testing this feature on few users
Facebook has been testing a new Snapchat-like 'Quick Updates' feature for a while now on select few users, however it doesn't plan to make it available commercially. A Facebook spokesperson has confirmed that the firm isn't looking to "to move forward or launch the Quick Updates feature."
This Snapchat-like feature let Facebook users post photos and videos for 24-hours to select friends, after which they would disappear. When contacted by TechCrunch about the test, the social giant told the publication that it isn't looking to make it live globally. The report reads, "Facebook confirms that this was a product that it was testing with some users. The purpose was giving people tools to share with whom they want, as opposed to wider News Feed broadcasting. However, a spokesperson tells me Facebook doesn't plan to launch or move forward with Quick Updates. So Quick Updates is basically a stillborn feature you won't see more of."
Quick Updates was heavily inspired by Snapchat, and allowed users to share photos and videos for 24-hours. It showed up as a smiley next to the Search bar, and tapping it showed a quick tutorial on how to use the feature. It even allowed users to add text to the post, just like Snapchat does. The feature let users take a picture instantaneously, or add an old picture from the smartphone as well. Snapchat just introduced its new 'Memories' feature that also introduced the ability to share old photos.
However, this feature isn't coming to the app commercially, and Facebook has rightly put the lid on it and decided against launching it. Quick Updates is just another attempt from Facebook to grab users back onto its platform and get them to upload frequent personal updates. Users are increasingly shifting to Facebook-owned Instagram and Snapchat to share personal content. Snapchat has a host of features like masks, and stickers for social play that makes Quick Updates look nascent in comparison.
Facebook has been testing many time-related features on its platform recently. It tested the one-hour self-destructing messaging feature (http://gadgets.ndtv.com/apps/news/facebook-testing-snapchat-like-vanishing-messages-for-messenger-764584) on its Messenger platform, and is even looking tointroduce a discreet notifications feature that will allow users to only share on the News Feed without it showing up on their Timelines.
["Source-Gadgets"]