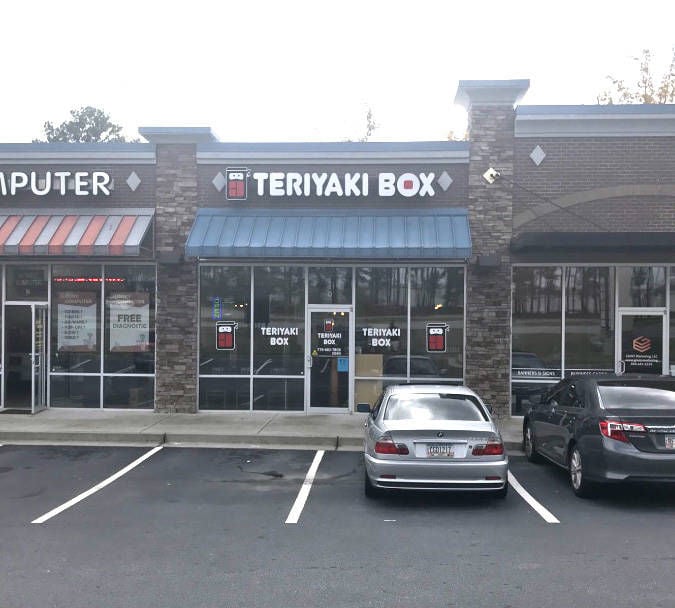 1766 Old Norcross Road, Suite O, Lawrenceville
Hours: 11 a.m. to 9 p.m. Monday through Thursday and 11 a.m. to 9:30 p.m. Friday and Saturday. Closed Sunday.
Location: In Old Norcross Plaza, off Old Norcross Road behind Swim Atlanta and Publix.
Atmosphere: Teriyaki Box is a fast-casual take on Japanese food that aims to provide customers with a quick and inexpensive alternative to higher priced hibachi restaurants. The dining area is small but makes good use of its space. Customers order at the counter with the menu presented on LED screens in order to get the food out as quickly as possible. The room is decorated with a mixture of metal and wood features to give the dining area a neo traditional look. Eccentric light fixtures add a bit of flair to the restaurant.
Owner Hendra Bhaktiar said he opened the restaurant because he saw a need for variety that included health conscious options in the area. He wanted people to be able to come in after work or while on the go.
"When we surveyed the area, we saw a lot of Wing Stops and sandwich shops," Bhaktiar said. "We know people love sit down hibachi, so we wanted to bring a similar concept but to a fast-casual setting."
The name Teriyaki Box combines the name of the traditional Japanese bento box and the restaurant's signature item, teriyaki chicken. All orders are served in take-out containers, so they can easily be made portable. Teriyaki Box also features online ordering, delivery and catering.
Menu: Teriyaki Box's main courses are divided into three categories: teriyaki boxes, fried boxes and sushi boxes. Bhaktiar said he and his wife came up with the categories based on variety and the level of healthiness each category offers. He said they chose the sushi box with health-conscious people in mind and the fried box with someone who wants something a little more full-bodied. The teriyaki box is meant to be somewhere in the middle.
"We have three different kinds of food that a whole family can enjoy," Bhaktiar said. "(Most of the sushi) has no grease. It is all made from scratch. The teriyaki is kind of in the middle. Everything is grilled. If someone is craving fried, we have something deep fried."
The restaurant's teriyaki boxes come with white rice, mixed vegetables and a drink. Protein options include tofu, chicken, steak, shrimp or salmon. Bhaktiar said if someone is trying to avoid carbs, the box can be ordered with just vegetables.
The fried boxes come with a choice of fish, shrimp, chicken tenders or chicken wings. Wing flavors include a range of hot levels, lemon pepper, teriyaki, ranch, garlic pepper, Cajun, barbeque, spicy teriyaki, spicy Asian and honey mustard. Fried boxes are served with fries and a drink.
Teriyaki Box also offers twelve sushi rolls to choose from for the sushi boxes. The rolls are split into two categories, regular rolls and Maki rolls. Customers can get a box with two regular rolls, two Maki rolls or one of each. The boxes also come with a choice of miso soup or egg corn soup and a regular drink.
Teriyaki Box also has a lineup of smoothies, including avocado, mango, pineapple, strawberry banana, watermelon, taro and lychee. All the smoothies are made from locally grown, fresh fruit except for taro and lychee, which are shipped from overseas. Bhaktiar said one of the most exclusive items on the menu is the Pokka Japanese green tea.
"When I was in high school, I drank this green tea," Bhaktiar said. "This was way back in Singapore. Ever since then, when I moved to the states, I haven't been able to find it. Somehow, it popped up, so (the green tea) is something very special and different."
Bhaktiar said one thing that sets Teriyaki Box apart from other restaurants is that all the ingredients are fresh and almost everything is made from scratch.
"All the sauces are homemade fresh on a daily basis," Bhaktiar said. "No MSG is one thing that we stand for. We add no MSG at all because we know that some people may be allergic."
Something You May Not Know: Teriyaki Box's logo is a ninja with a bento box for a body. Bhaktiar said his son, who was six years old at the time, came up with the concept for the logo.
"We said we wanted to open up a Japanese restaurant and all my son kept saying was ninja," Bhatiar said. "Then we think of the bento box, which is where the name Teriyaki Box comes from. If you look at the logo, the mouth and the nose is kind of a bento plate."
Source:-.gwinnettdailypost.