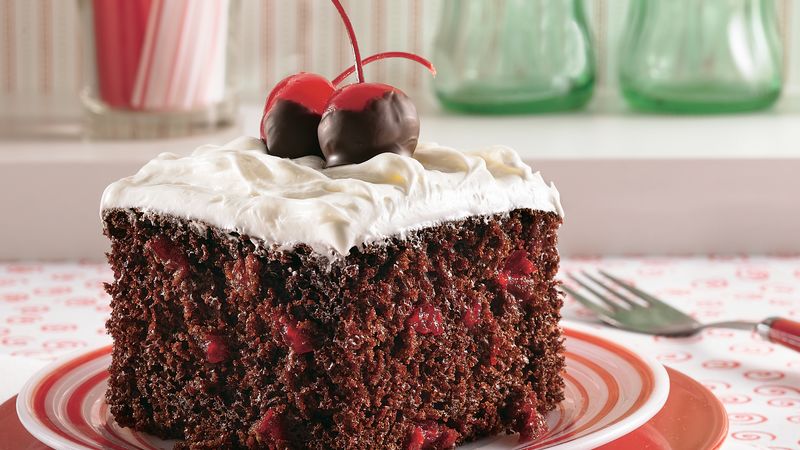 Introduction
When it comes to indulgent desserts, few things can beat the rich, moist delight of a Duncan Hines chocolate cake. But what happens when you take this classic cake mix and add a twist of sweetness with cherry pie filling? You get a dessert that's nothing short of heavenly. In this article, we'll explore the delightful world of Duncan Hines chocolate cake with cherry pie filling, from its origins to a step-by-step recipe that will have your taste buds dancing with joy.
A Match Made in Dessert Heaven
The Story Behind the Combination
Before we dive into the recipe, let's take a moment to appreciate the genius behind combining chocolate cake with cherry pie filling. This delightful pairing marries the deep, velvety richness of chocolate with the sweet, slightly tart burst of flavor from cherry pie filling. It's a match made in dessert heaven, and it's been a favorite among bakers and dessert enthusiasts for years.
The Versatility of Duncan Hines Cake Mix
Duncan Hines cake mixes have long been cherished for their convenience and consistently delicious results. Whether you're an experienced baker or a novice in the kitchen, Duncan Hines cake mixes offer a foolproof way to create mouthwatering cakes. Their chocolate cake mix, in particular, serves as the perfect canvas for our cherry pie filling experiment.
The Recipe: Duncan Hines Chocolate Cake with Cherry Pie Filling
Now, let's get down to the delicious details. Here's a step-by-step guide on how to create your own Duncan Hines chocolate cake with cherry pie filling.
Ingredients You'll Need
1 box of Duncan Hines chocolate cake mix
3 large eggs
1 cup of water
1/2 cup of vegetable oil
1 can of cherry pie filling
Whipped cream for garnish (optional)
Step 1: Prepare the Cake Batter
Begin by preheating your oven to 350°F (175°C). In a mixing bowl, combine the Duncan Hines chocolate cake mix, eggs, water, and vegetable oil. Mix until you have a smooth, lump-free batter.
Step 2: Grease and Flour Your Pan
To ensure your cake doesn't stick, grease your cake pan and lightly flour it. This will make it easier to remove the slices later.
Step 3: Pour the Batter
Pour half of the cake batter into the prepared pan, spreading it evenly.
Step 4: Add the Cherry Pie Filling
Now comes the magic moment. Carefully spoon the cherry pie filling over the cake batter in the pan. Be generous with those juicy cherries!
Step 5: Layer with More Batter
Cover the cherry pie filling with the remaining cake batter. Use a spatula to spread it evenly, ensuring the cherries are nicely tucked inside.
Step 6: Bake to Perfection
Place your cake pan in the preheated oven and bake for approximately 30-35 minutes or until a toothpick inserted into the center comes out clean. The aroma will be irresistible!
Step 7: Let It Cool
Once baked to perfection, remove the cake from the oven and allow it to cool in the pan for about 10 minutes. Then, transfer it to a wire rack to cool completely.
Step 8: Garnish and Serve
For an extra touch of decadence, top your Duncan Hines chocolate cake with cherry pie filling with a dollop of whipped cream. Slice, serve, and watch your guests' faces light up with delight.
Conclusion
Duncan Hines chocolate cake with cherry pie filling is a dessert that's both simple to make and incredibly satisfying to savor. The marriage of rich chocolate and sweet cherries creates a flavor explosion that's hard to resist. Whether you're baking for a special occasion or simply indulging your sweet tooth, this dessert is a winning choice.
So, the next time you're craving a slice of something extraordinary, give this recipe a try. Your taste buds will thank you.
FAQs
1. Can I use fresh cherries instead of cherry pie filling?
While cherry pie filling adds a convenient sweetness and tartness to the cake, you can certainly use fresh cherries if they're in season. Just be sure to pit and sweeten them to your taste.
2. Can I make this cake in advance?
Absolutely! This cake can be made a day ahead and stored in the refrigerator. Just be sure to cover it to keep it fresh.
3. What other toppings go well with this cake?
In addition to whipped cream, you can try a drizzle of chocolate ganache or a dusting of powdered sugar for added flair.
4. Can I use a different cake mix brand?
While Duncan Hines is recommended for its consistent results, you can experiment with other chocolate cake mixes if you prefer.
5. Is this cake suitable for special occasions?
Certainly! This cake's elegant appearance and delicious taste make it perfect for birthdays, anniversaries, or any celebration.