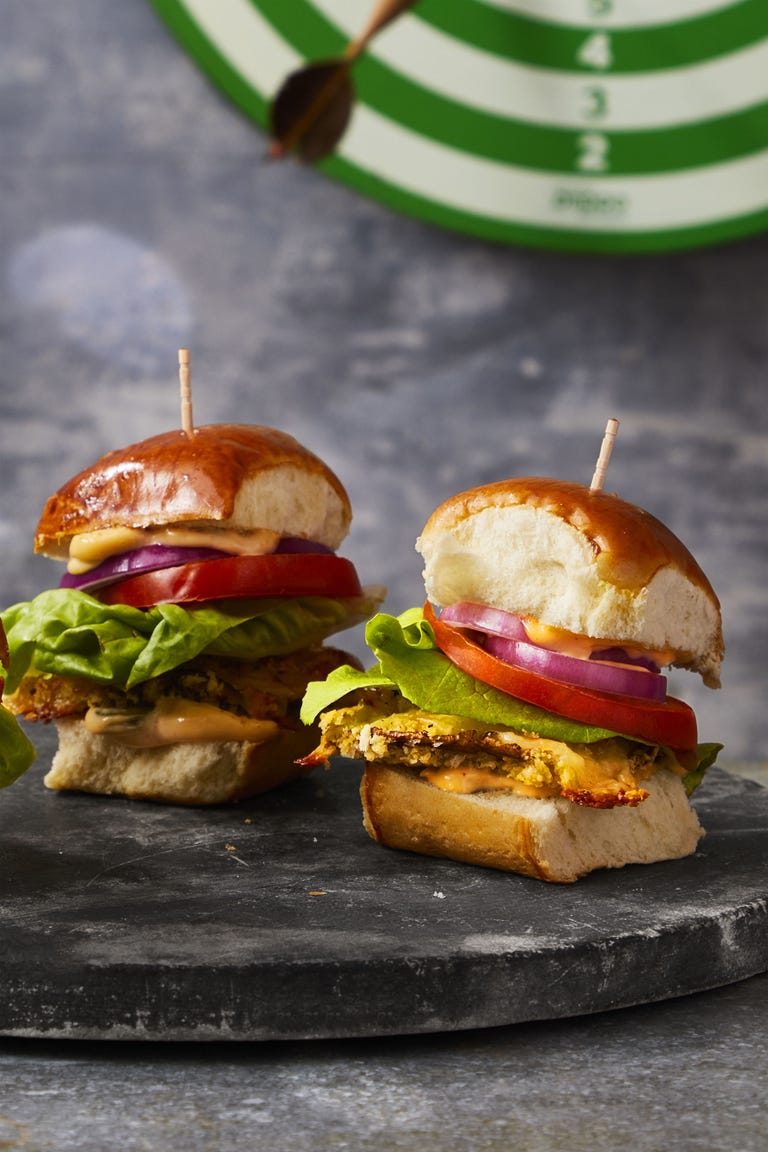 Our take on the "veggie burger" is packed with flavor — and cheese!
3/4 c. panko
1/4 c. Grated Parmesan
2 tbsp. olive oil
Kosher salt
pepper
12 medium ( 2 1/2-inch) shiitake mushroom caps
3 oz. Muenster cheese, grated
1/4 c. mayonnaise
1 tsp. Hot sauce
Pinch smoked paprika
8 cornichon pickles, thinly sliced
12 slider buns, split
Lettuce, sliced tomato, and sliced onion for serving
Heat oven to 450°F. Line large baking sheet with nonstick foil. In pie plate, combine panko, Parmesan and 1 tablespoon olive oil. In medium bowl, whisk together egg and 1/2 teaspoon each salt and pepper.
Working with 1 mushroom at a time, dip rounded side into egg, then coat in panko. Transfer mushrooms to prepared baking sheet, panko side down.
Divide Muenster among mushrooms. Sprinkle any remaining panko mixture over Muenster. Roast until mushrooms are tender, 6 minutes.
Meanwhile, combine mayonnaise, hot sauce, smoked paprika and pinch each salt and pepper; stir in sliced cornichons.
Spread buns with sauce and top with mushrooms, lettuce, tomato, and onion.
["source=goodhousekeeping"]