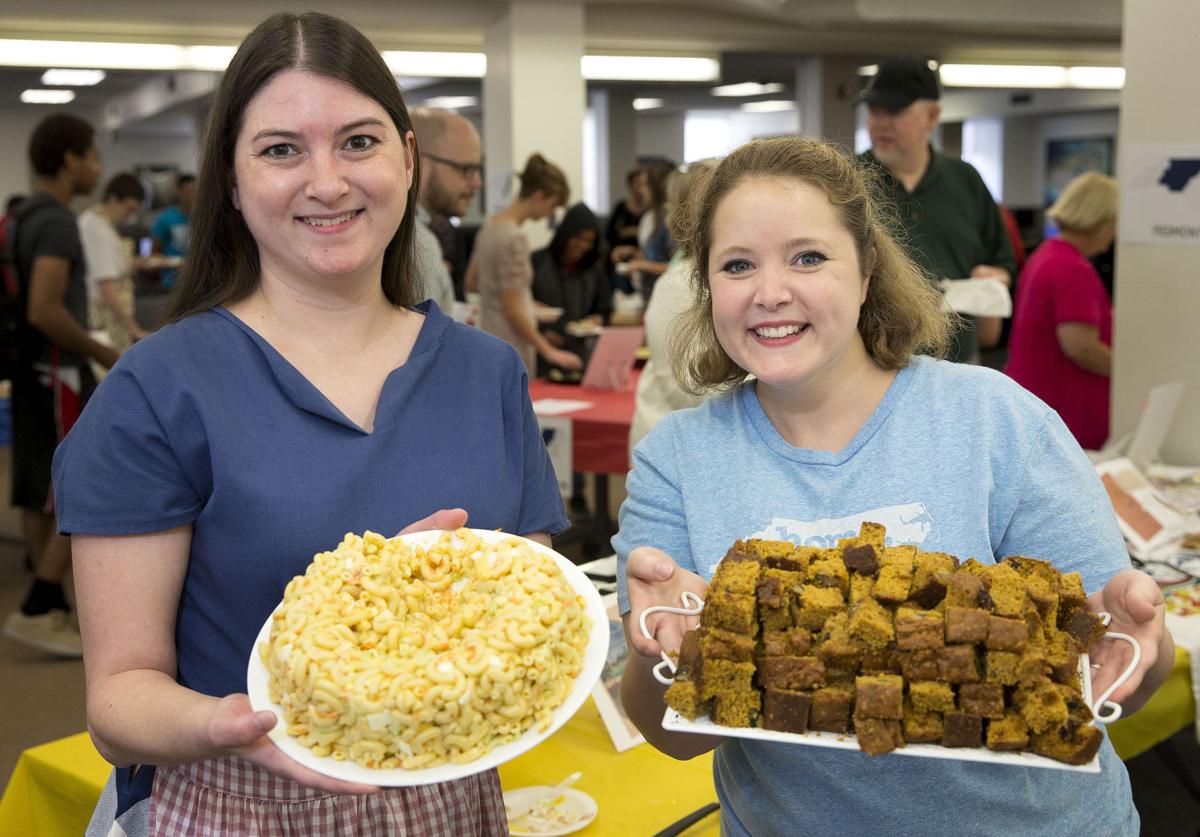 Mouths watered as lines formed for the fourth annual Vintage Viands tasting event at UNC-Greensboro's Walter Clinton Jackson Library. The event celebrated the heritage of North Carolina cookbooks in all 100 counties and the women who cooked, baked, broiled and stewed favorite Southern dishes for family and friend in years past.
For many, like Donna Kelly, who made the event a day trip from Denver, N.C., it's a sweet reminder of days gone by when food and recipes were simpler. "I grew up eating chicken casseroles, mac n' cheese, and other 1940s foods, and I am still eating them," Kelly says, smiling.
This year's Vintage Viands was inspired by Foy Allen Edelman's donation of a massive cookbook collection to the library this year. Edelman, a passionate lover of cookbooks and the history of North Carolina foodways, has spent years researching North Carolina's food history. The collection is housed in a climate-controlled room on the library's third floor and is available to the public in Special Collections' research room.
The event is a fitting tribute to the formerly all-female institution once called Woman's College of the University of North Carolina (1932 to 1963), affectionately referred to as "Woman's College."
The cookbooks on display at Vintage Viands reflect the heritage of Southern food and the women who told their stories in church cookbooks, Home Extension clubs and other organizations.
Many Vintage Viands participants have grown up eating these comfort foods — desserts, casseroles, stews and salads. A braunschweiger ball featured ham from the Newton First Presbyterian Church ("Palatable Pleasures from Presbyterians"), lemon "stickies" from the Pasquotank Plate cookbook, chocolate éclair sheet cake from St. Matthew's Lutheran Church cookbook (King's Mountain); "scratch back" cookies from Stokes County Home Demonstration cookbook and more. To wash it down, Cheerwine punch (Raeford-Hoke Museum recipe) was the perfect accompaniment, made with the red soda invented in Salisbury.
The chicken casserole went fast, along with crockpot mac n' cheese and Friday Night chili, multi-generational favorites. Quirky twists on traditional favorites — like the peanut butter, bacon and pickle sandwich and the bitter-sounding (but delightful) vinegar pie — raised a few eyebrows but got a "thumbs-up" from many who tried them.
The staff prepared more than 40 dishes, and a competitive spirit raised its head among those who relish besting co-workers and poking good-natured fun at recipes.
"Try it," laughs Callie Coward, special collections cataloger, as she held out a fork with a green mass perched on top. "It is pretty awful." She pointed to the asparagus jelled salad she was coaxing tasters to try.
Tasters cast votes in two categories — "Most delicious," a tie between the Chess Tarts (made by Kathelene McCarty Smith) and Crab Tomato Soup (made by Erica Rau); and "Most Interesting," which went to the Asparagus Salad made by Paul Hessling.
Source:-greensboro