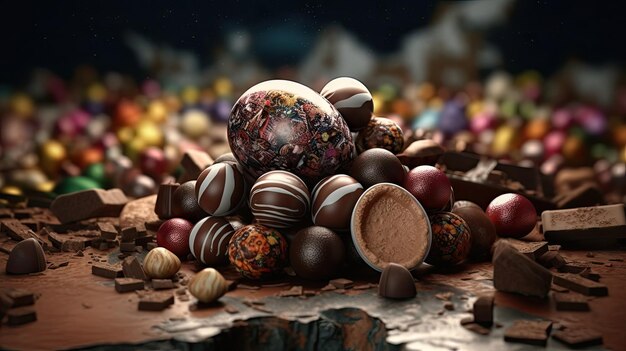 Are you a chocoholic looking for a delightful event to satisfy your sweet cravings? Look no further than the Chocolate Fest in Burlington, Wisconsin. This annual festival is a haven for chocolate lovers, offering a wide range of cocoa-infused treats and entertainment for the entire family. In this article, we will delve into the delectable world of Chocolate Fest, exploring its history, attractions, contests, family-friendly activities, and much more.
The History of Chocolate Fest in Burlington, Wisconsin
Chocolate Fest in Burlington, Wisconsin, is a cherished tradition dating back to 1987. This sweet celebration was initially conceived to raise funds for local non-profit organizations. Over the years, it has grown into one of the region's most popular events, attracting visitors from all around the country. The festival usually takes place over Memorial Day weekend and spans four days of chocolate-filled fun.
Chocolate Fest Attractions
A Sweet Extravaganza for All Ages
The heart of Chocolate Fest is its various chocolate-themed attractions that cater to all age groups. From toddlers to seniors, there's something for everyone to enjoy.
Chocolate-Centric Food and Beverages
One of the festival's highlights is the delectable array of chocolate-infused foods and beverages. From chocolate-dipped strawberries to rich hot cocoa, you'll find a sweet treat for every palate.
Live Entertainment
Throughout the festival, you can enjoy live music, dance performances, and entertainment acts. The vibrant atmosphere ensures that you're never far from lively entertainment.
The Chocolate Fest Parade
The Chocolate Fest Parade is a must-see event. Spectators line the streets to witness creatively decorated floats, marching bands, and, of course, plenty of chocolate-themed entries.
Chocolate Fest Contests and Competitions
Chocolate Eating Contest
Think you can consume a massive amount of chocolate in record time? Participate in the Chocolate Eating Contest and put your chocolate-eating skills to the test.
Baking Contests
Bakers of all levels can showcase their skills in various baking competitions. From brownies to chocolate cakes, the baking contests are a fantastic opportunity to display your culinary talents.
Family-Friendly Activities
Chocolate-Themed Games
Children can indulge in chocolate-themed games, such as chocolate egg hunts, chocolate cookie decorating, and more.
Carnival Rides
Amusement rides provide a fun and thrilling experience for the entire family. Enjoy classic carnival rides and attractions for all ages.
Chocolate Fest Vendors
A variety of vendors set up shop at Chocolate Fest, offering everything from handmade chocolates to unique chocolate-themed merchandise.
Chocolate Fest for a Cause
Fundraising Efforts
While indulging in the chocolatey goodness, it's essential to remember that Chocolate Fest's primary purpose is to raise funds for local non-profit organizations. Your attendance supports these noble causes.
Chocolate Fest Souvenirs
Don't forget to pick up some festival souvenirs to commemorate your visit. T-shirts, mugs, and other merchandise are available.
Tips for Attending Chocolate Fest
Here are some tips to make the most of your Chocolate Fest experience:
Arrive early to avoid the crowds.
Wear comfortable clothing and shoes.
Stay hydrated, especially if the weather is warm.
Bring cash for purchases from vendors.
Consider carpooling or using public transportation to ease parking.
Local Accommodations and Travel Information
If you're visiting from out of town, Burlington offers a range of accommodation options, from hotels to cozy bed and breakfasts. Plan your visit ahead of time, and make reservations to ensure a comfortable stay.
Conclusion
In conclusion, Chocolate Fest in Burlington, Wisconsin, is a chocolate lover's paradise. This annual event combines the joy of chocolate with the spirit of community, making it a must-visit destination for families and sweet enthusiasts alike. Don't miss the chance to experience this delightful festival.
Frequently Asked Questions (FAQs)
When is Chocolate Fest in Burlington, Wisconsin held? Chocolate Fest is typically held over Memorial Day weekend, spanning four days of chocolate-themed festivities.
Are there any admission fees to enter Chocolate Fest? Yes, there is typically an admission fee to enter the festival. Be sure to check the official Chocolate Fest website for current pricing and any discounts.
What should I bring to Chocolate Fest? It's advisable to bring cash for purchases, comfortable clothing, and appropriate footwear for walking around the festival grounds.
Is Chocolate Fest suitable for children? Absolutely! Chocolate Fest offers a wide range of family-friendly activities, making it an ideal destination for kids and adults alike.
How can I participate in the Chocolate Eating Contest? To participate in the Chocolate Eating Contest, you'll need to sign up at the designated registration area during the festival. Be prepared for a sweet challenge!