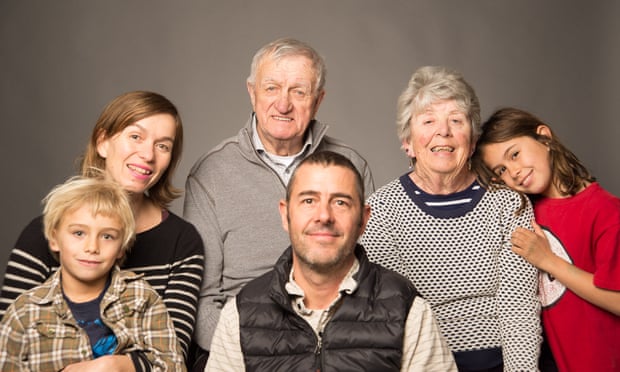 Rajesh Westerberg and his wife Nicola Percy, their son Ari and daughter Pearl, and Nicola's parents. Photograph: Nicola Percy
The Home Office is urgently reviewing the case of a British-American family hit by costs of £45,000 and split between different sides of the Atlantic after it refused to reverse a visa decision based on a misinterpretation of its own rules.
Rajesh Westerberg, the American husband of an English wife and the father of two British citizens, has a master's degree and a job offer of full-time employment with the Welsh National Opera.
He had indefinite leave to remain (ILR) in the country for eight years from 2004. It lapsed in 2012 because he remained outside the UK for 28 days more than the two-year return period mandated by the ILR law. When he visited the UK this summer on a tourist visa with his family, he received an offer of work and applied for a change in his visa status to enable him to remain here. His application was refused twice.
"The Home Office falsely claimed that I did not qualify for a change to my visa status because they said statuses cannot be changed from inside the UK. But their own rules clearly state an exemption if your children are British citizens," said Westerberg, speaking from Heathrow airport before leaving the UK on Wednesday with no hope of returning for about a year. "They later admitted they were wrong to ignore that exemption, but nevertheless refused to reverse their decision."
The admission was made in a letter to the Westerbergs' MP, Karin Smyth. In the letter, Sarah Brooke of UK Visas and Immigration wrote: "[The exemption] applies when the qualifying children are British … In light of your representations, we have reviewed the [exemption] consideration and can confirm that it is incorrect.
"I am sorry for this error. However, whilst the refusal letter is wrong in that respect, it does not alter the decision to refuse Mr Westerberg's application. Mr Westerberg has come to the UK as a visitor, and as such we expect such persons to leave the UK before their leave expires."