Come July, the whole of Hyderabad and Secunderabad gets immersed in the festival of Bonalu.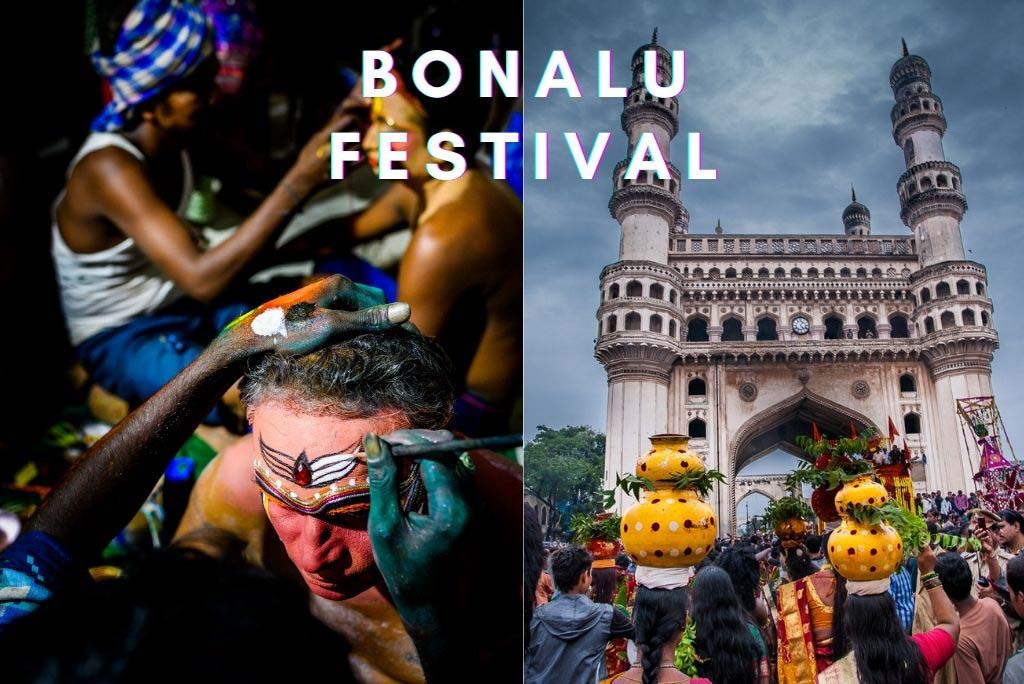 What is Bonalu?
Bonalu is the most popular festival in Hyderabad.
Bonalu is derived from the word Bonam meaning meal that is offered to the Goddess Mahankali. Women prepare a special offering for the god made of rice cooked with jaggery and milk in an earthen or metal pot. The sacred pot is decorated with neem leaves, vermillion, and turmeric and is carried by women on their heads. They also offer bangles and saree to the goddess.
Bonanu History
Plague broke out in the twin cities of Hyderabad and Secunderabad in 1813. During that time, a battalion from Hyderabad state was posted in Ujjain, Madhya Pradesh. When they learnt about the situation in the cities, they prayed to the Mother Goddess in Mahankaal Temple in Ujjain.
They vowed to install the idol of Mahankaali back in Secunderabad if things normalise. Fortunately, things got better and the battalion came back and installed the Goddess Mahahankali in Secunderabad and offered Bonalu to her. Since then it has become a tradition and it is still followed by the people of the State.
Bonanu Celebration Dates and Locations
Bonalu is celebrated in different parts of the city. The celebrations start at the Golconda Fort in Hyderabad on the first Sunday of Aashadham. On the second Sunday at Balkampet Yellamma temple in Balkampet and Secunderabad's Ujjaini Mahakali Temple and on the third Sunday at Lal Darwaza, Old city of Hyderabad's Matheswari temple, Muthyalamma temple in Shah Ali Banda, and in Haribowli's Akkanna Madanna temple are few main temples where Bonalu is celebrated. Lakhs of devotees gather temples to worship Mahankali every year.
Bonalu Traditions
Women dress up in traditional Saris along with jewels and other accessories whereas the teenage girls dress up bringing out the beauty of the attire by wearing traditional Half- Saris combining with jewels. It is believed that women carrying Bonalu possess the spirit of Mother Goddess and when they approach the temple, people pour water on their feet to pacify the spirit, as believed to be aggressive by nature.
Bonalu is a festival of divine offering to Mother Goddess and families also share these offerings with other family members and guests. After the great offering, the non-vegetarian family feasts. Usually its the meat of goat or a chicken which is offered ceremonially (Bali in Telugu) to Mother Goddess which is considered sacred and alcohol offering is also a must tradition.
Mother Goddess is worshipped in many regional forms Pochamma, Peddhamma, Mysamma, Poleramma, Nookalamma, Yellamma.
["source=siaphotography"]