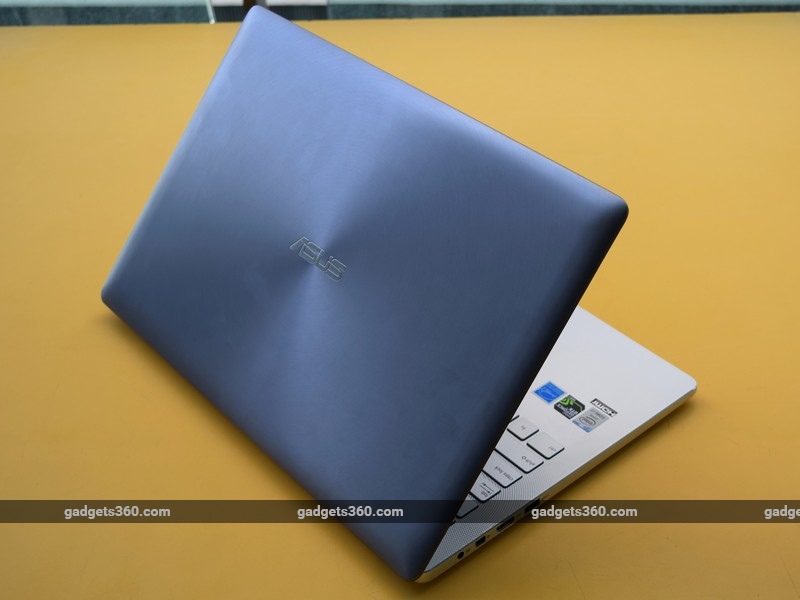 The Asus ZenBook Pro UX501 is the most recent addition to the company's premium laptop lineup, and was launched in India a few months ago. With a street price set of Rs. 1,15,999, we're creeping into MacBook Pro territory. Apple's offering is usually one of the first choices that springs to mind when one thinks of a premium laptop, so Asus has its work cut out in terms of grabbing mindshare at this price segment.
We received the UX501JW-FJ221H model for review, which is the one that's currently being sold online. The ZenBook Pro promises a luxurious experience and high-end performance. Let's see how well this translates in the real world.
Look and feel
At first glance, the laptop does remind you of Apple's design style, but look closer and you'll see plenty of differences that help the ZenBook Pro hold its own. Asus has gone with aluminium for the lid and body, which lends the laptop a premium look. The lid also features Asus's signature 'spun-metal' finish which is present on all ZenBook models.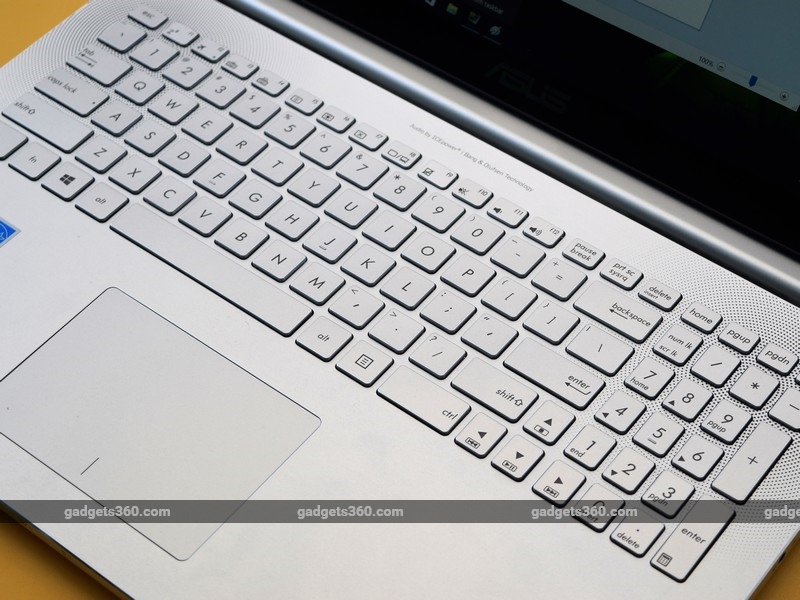 Open the lid and you're greeted by a gorgeous 15.6-inch UHD (2160×3840) IPS screen. There's no anti-glare treatment so reflections can be a problem even at full brightness. The display also supports 10-finger touch input for Windows 8 and 10. The colours are rich and there's no perceivable jaggedness around text or icons thanks to the 282ppi pixel density. Viewing angles are also very good, which makes watching movies in a group more enjoyable thanks to a wider sweet spot. There's a rubber lining along the edge of display which seals off the keyboard area when the lid is closed.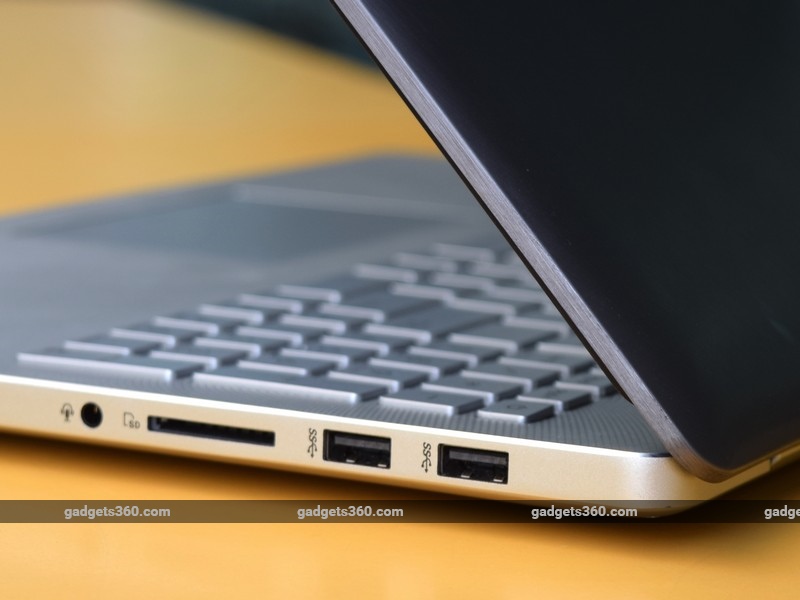 The hinge is sturdy and hides the exhaust vents so the hot air doesn't make it uncomfortable to use on your lap. All ports are placed on the two sides of the laptop. You get a total of three USB 3.0 ports, a headphones and microphone combo jack, SD card slot, HDMI 1.4, Mini DisplayPort (MiniDP) 1.1a, and the charging port. Asus has confirmed that the laptop sold in India will have a Thunderbolt port instead of MiniDP and will ship with a Gigabit LAN adapter. There's no access flap for swapping out the RAM due to the aluminium base so you'll have to unscrew the entire bottom to get to the components. The two rear rubber feet are larger than the ones in the front, giving you a comfortable incline for typing.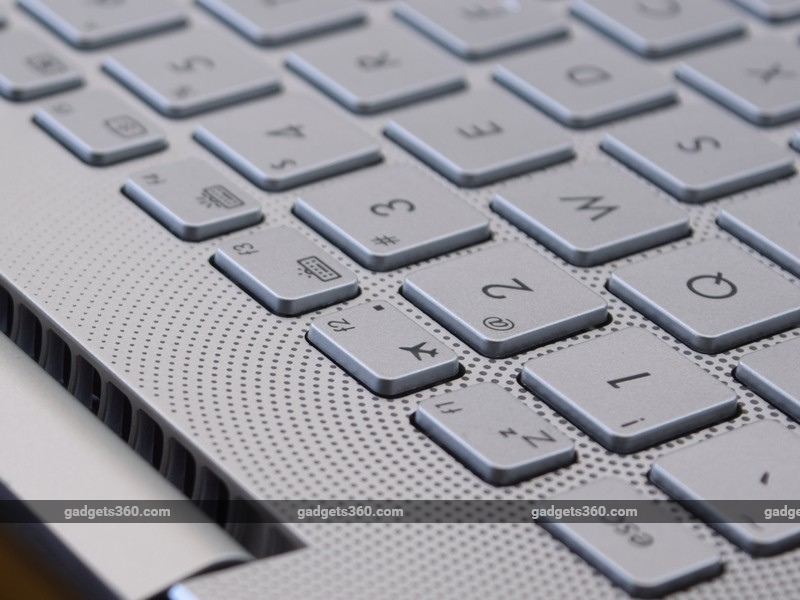 You get a full-sized keyboard along with a numeric pad. The chiclet keys are backlit and have good spacing. They're also comfortable with decent travel and a firm tactile response. Audio is handled by Bang & Olufsen speakers on the bottom, facing the sides. The large trackpad is glass-coated so finger tracking is smooth. The left and right mouse buttons have good tactile response and don't require much effort to use. The palm rest area is spacious too but the surface does tend to pick up smudges and fingerprints easily. The LED status indicators for power, battery and hard disk activity are placed facing the front.
Asus has done a brilliant job with the build and finish of the ZenBook Pro UX501. Right from the UHD display to the chamfered edges on the body, the laptop looks and feels like a premium device should. It weighs 2.2kg which is on the heavier side, so lugging it around might take some effort.
Specifications and software
The ZenBook Pro packs in a high-end Intel Core i7-4720HQ CPU which runs at 2.2GHz and can turbo up to 3.6GHz. This quad-core CPU is the same one present in the HP Omen and MSI GT80 2QE Titan SLIthat we reviewed recently.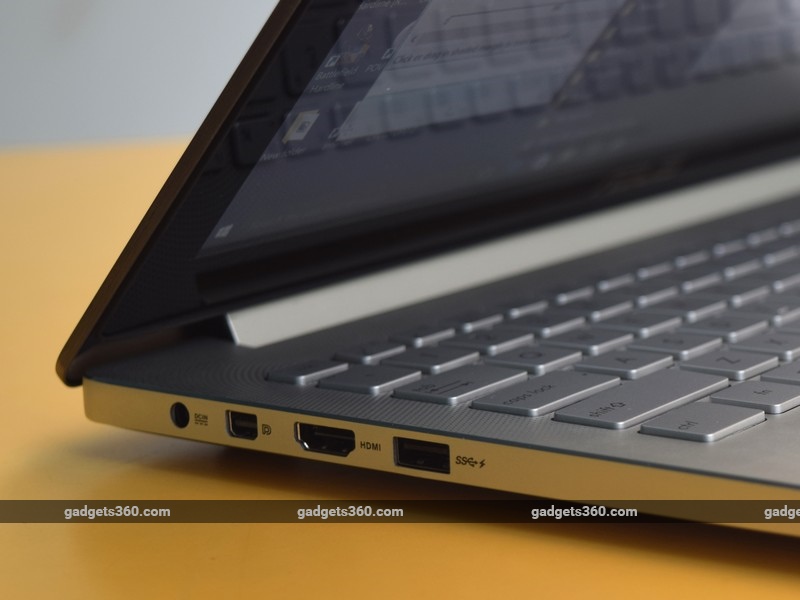 There's a total of 16GB DDR3 RAM and just like the Asus A555LF, 8GB of it is soldered onboard while the rest is on a single DIMM stick. The graphics card is an Nvidia GeForce GTX 960M with 2GB of GDDR5 memory. For storage, Asus has gone with a 512GB PCIe SSD from Samsung. Other specifications include an HD webcam, Wi-Fi b/g/n/ac, Bluetooth 4.0 and a 96WHr 6-cell battery.
The retail unit of the laptop should come with Windows 8.1 64-bit which is eligible for a free upgrade to Windows 10. Our review unit came with Windows 10 already installed. You also get a whole bunch of Asus utilities including Live Update; Splendid utility for switching between different colour profiles; USB Charger Plus, which lets you charge USB devices when the laptop is off; WebStorage, which is Asus's own cloud storage service; and trial versions of McAfee LiveSafe security suite and Office 365.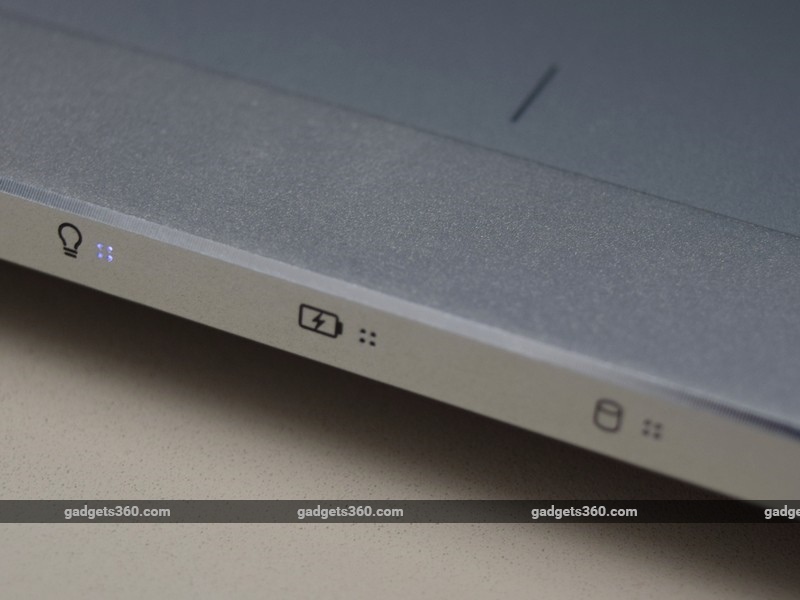 Performance
General app performance and boot times are speedy thanks to the very fast SSD. Asus has set the display scaling to 250 percent which gives you an effective display resolution of a little under 1920×1080. Windows does a good job of scaling icons and text which are native to the new operating system, but some apps that don't account for this are rendered at the native resolution, which makes everything too small to see without squinting. EA's Origin game manager, for instance, didn't comply with Windows' scaling. We noticed a very small delay in the animations when opening new windows or apps, which can be mistaken for lag but it's just Windows scaling up the resolution. It's very subtle and will likely go unnoticed by most
The palm rest area runs very cool and doesn't heat up even while gaming. One thing we did note was that the base, near the hinge, does get hot after a while and so does the bottom portion of display, where the Asus logo is. The keyboard is comfortable to use with very little fatigue creeping in, even after extended periods of typing. You can also choose between three levels of key backlighting. We don't have any complaints with the trackpad either, which works well and doesn't get in the way while typing.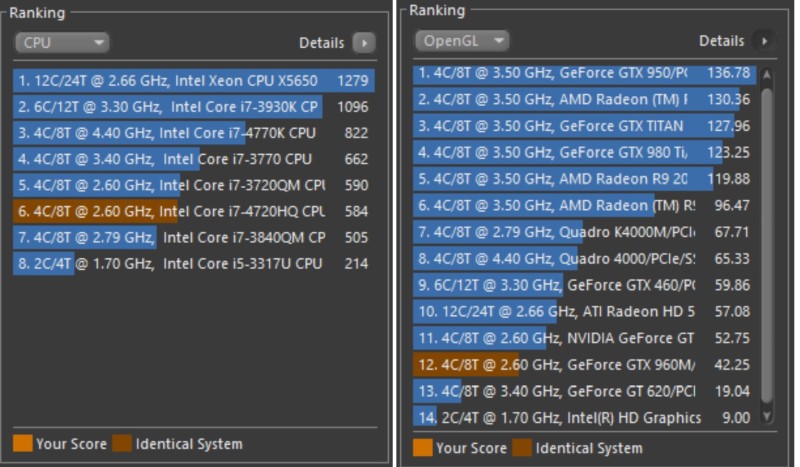 We got 42fps in Cinebench R15's OpenGL test and 584 points in the CPU test. POVRay completed with a trace time of 3 minutes 25 seconds, which is a good number. The ZenBook Pro really shines in storage subsystem read-write tests, posting better numbers than more expensive gaming laptops. In SiSoft SANDRA's physical disk module, we got an aggregate drive speed of 1.4Gbps. The File System bandwidth test returned 1.4Gbps for sequential read speed and 1.3Gbps for sequential write.
The UX501 isn't marketed as a gaming laptop but it can very satisfactorily crunch pixels for a good gaming experience. Gaming at the native resolution is a silly idea since even high-end desktops would struggle to fill up a 4K screen. Dropping the resolution to 1080p makes games playable, without losing much on quality. This also lets you bump up the eye candy for a better visual experience. Tomb Raider returned a healthy average frame rate of 49fps at the Ultra preset.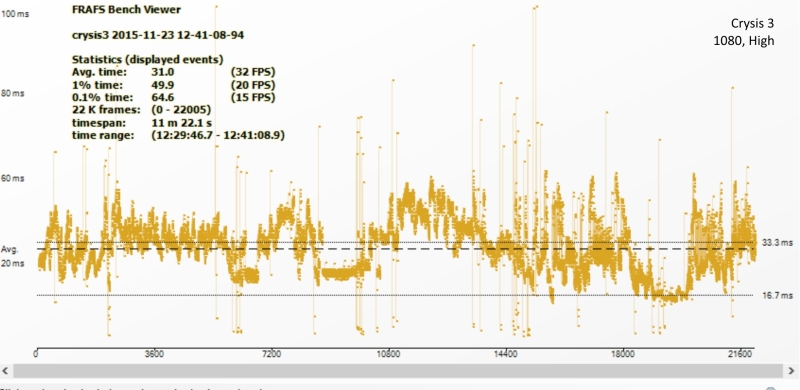 Crysis 3 was unplayable at 'Very High' settings so we had to drop it to 'High' to get smooth enough frame rates. Even with FXAA and 16x AF at full-HD resolution, we got a healthy average frame rate of 32fps. Gameplay gets a little choppy during the outdoor fight scenes in the opening sequence but that can be remedied by dialling down some of the settings.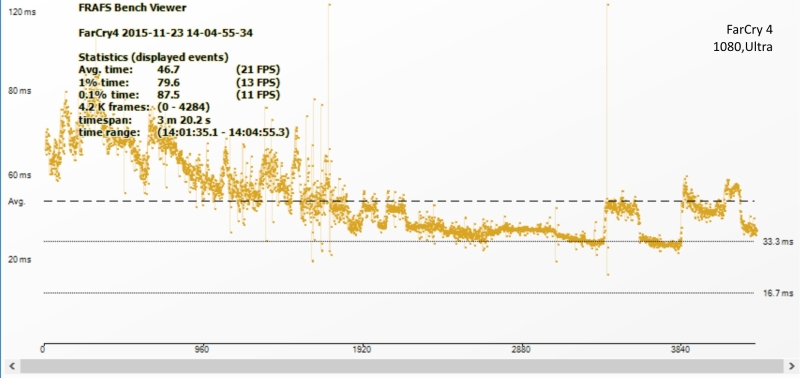 FarCry 4 was also just about playable at 1080p, with the quality set to 'Ultra', and SMAA and HBAO enabled. We managed 21.4fps on average here, which is not ideal but we wanted to see till what point we could push the hardware. Of course, dropping the quality settings down a notch will give you a more playable frame rate.
The display scaling can cause slight glitches when changing settings in-game, especially the resolution. We also came across another peculiar software glitch where some games and benchmarks would fail to detect the Nvidia GPU and crash. We had this issue with Battlefield 4 and 3DMark Fire Strike. Even after updating the necessary drivers, the issue still persisted. We're hoping this is an isolated incident with our review unit.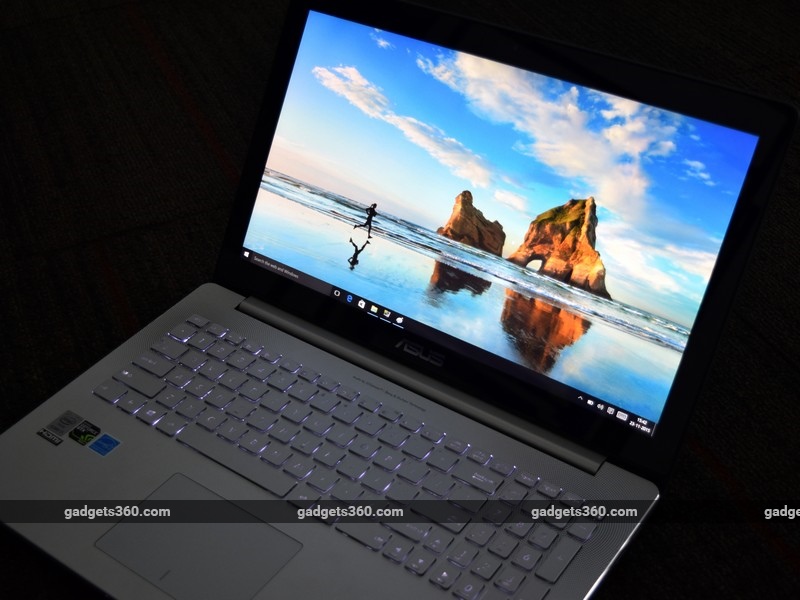 The ZenBook Pro is great for multimedia use. HD videos, especially full-HD and beyond, look stunning due to the IPS panel. Colours are rich and vibrant and the viewing angles are very good. The audio levels are decently loud with good mids and highs.
Coming to battery life, we managed to get 3 hours 42 minutes in Battery Eater Pro which translates to roughly 5 hours of real-world usage. During regular use, we managed to get close to this figure with lots of Web browsing, using Office documents, and playing a bit of music.
Verdict
The Asus ZenBook Pro UX501 turns out to be one of the better premium laptops in the market. It offers high-end specifications usually found in more expensive laptops, which makes it great value. The 4K display is stunning and is superb for office and multimedia work. The SSD also delivers some of the fastest read-write speeds we've come across. Then, there's the aluminium build, powerful internals and decent battery life on top of all of that.
Having a 4K resolution on such a small screen results in a few niggles. Not all applications adhere to Window's scaling guidelines so you might be forced to use apps at 100-percent resolution, where menus and text can get unreadably small. The lower bezel of the display also tends to get very hot, even without gaming. This isn't something you'll notice with regular use but we hope it doesn't have an adverse effect in the long run. Finally, the screen is quite reflective which makes it difficult to use under sunlight or even indoors, with artificial lighting behind you. Even maxing out the brightness level doesn't fix this.
Price (MRP): 1,15,999

Pros
Crisp UHD display
Excellent SSD performance
Aluminium body
Decent battery life
Good multimedia performance
Cons
Lower bezel of the display heats up
A bit heavy
App scaling doesn't always work
Screen is very reflective
Ratings (Out of 5)
Design: 4
Display: 4.5
Performance: 4
Software: 3.5
Value for Money: 3.5
Overall: 3.5
Download the Gadgets 360 app for Android and iOS to stay up to date with the latest tech news, product reviews, and exclusive deals on the popular mobiles.