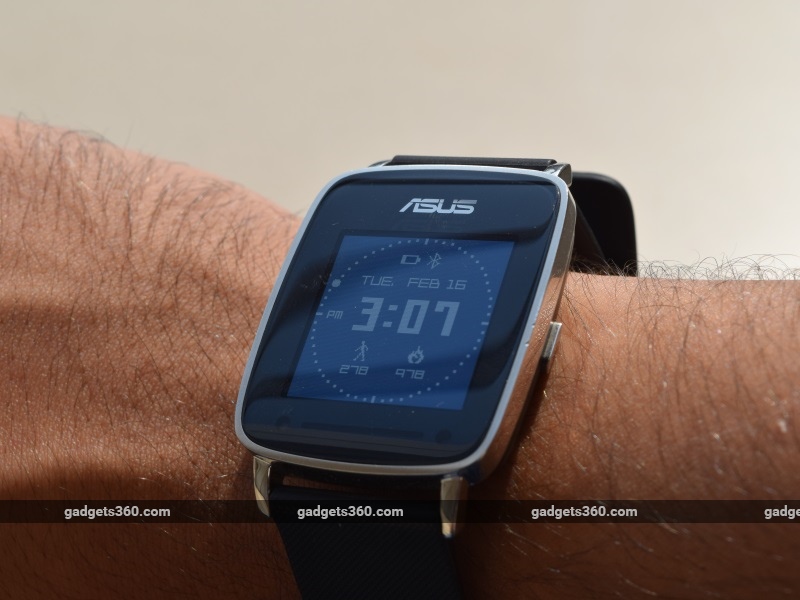 With innovation in smartphone technology slowing down, people have started looking at new gadgets to play with. Fitness has become fashionable again, and fitness trackers are among the more popular ways to add functionality to your smartphone. Smartwatches are gaining traction as well, thanks to the advantages of having a second screen for your phone within easy reach. Unfortunately, smartwatches usually don't make good fitness trackers, and trackers are generally useless as smartwatches.
Efforts to combine the two have usually fallen flat, but the Rs. 11,499 Asus VivoWatch hopes to change that. It's primarily a fitness tracker in terms of function, but its large screen and very watch-like shape make it the most hybrid device we've seen to date. Does this fitness tracker do enough to work as a smartwatch? We find out in our review.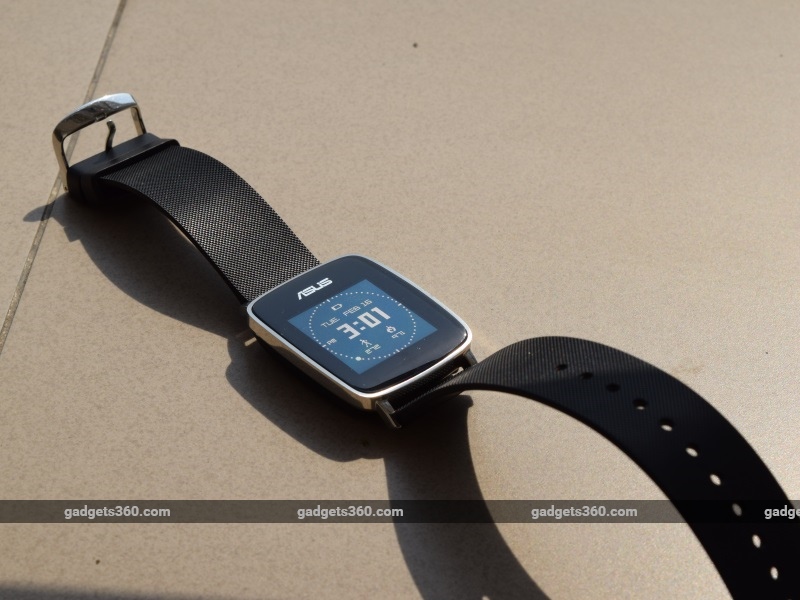 Design and features
The Asus VivoWatch is most similar to the Asus ZenWatch 2 in design, thanks to its metallic finish, pronounced lugs and square screen. As was the case with the ZenWatch 2, the VivoWatch has a lot of empty  space around the screen, which doesn't do anything for its aesthetics. A couple of key differences though are the Asus logo above the screen, and the LED indicator and sensors below.
The watch has a single button on the right which is used to turn it on or off, and unlock the screen. The bottom of the watch is plain, with just the heart-rate sensor and charging points. The watch charges by attaching it to the supplied charging cradle, which connects to a wall adapter or computer using a standard Micro-USB cable. The watch comes with a replaceable plastic strap and is IP67 water resistant. This means you can wear it practically all the time, and you'll only have it take it off to charge it.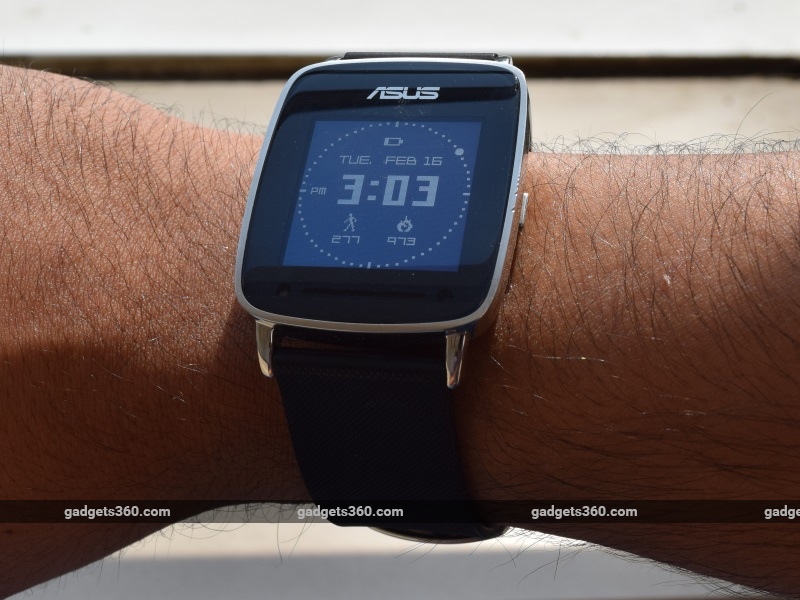 The display is monochrome and always on, with a backlight that comes on when you press the button. This makes it easy to read at any time of day, and the screen is suitably legible even under intense daylight. This always-on style makes the device easier to use as a watch, since you can just glance at the time without having to activate the screen first. The screen is touch-sensitive, and the VivoWatch will show you different screens when you swipe about from left to right or top to bottom.
The monochrome display is similar to the screens on the Pebble range of smartwatches, and is definitely less power-hungry than the LED and Amoled ones on premium smartwatches, but the claim of 10-day battery life is an overstatement. We would get about five days of use before the low-battery warning would pop up, and another day of use before the watch would deactivate the heart-rate sensor due to low battery.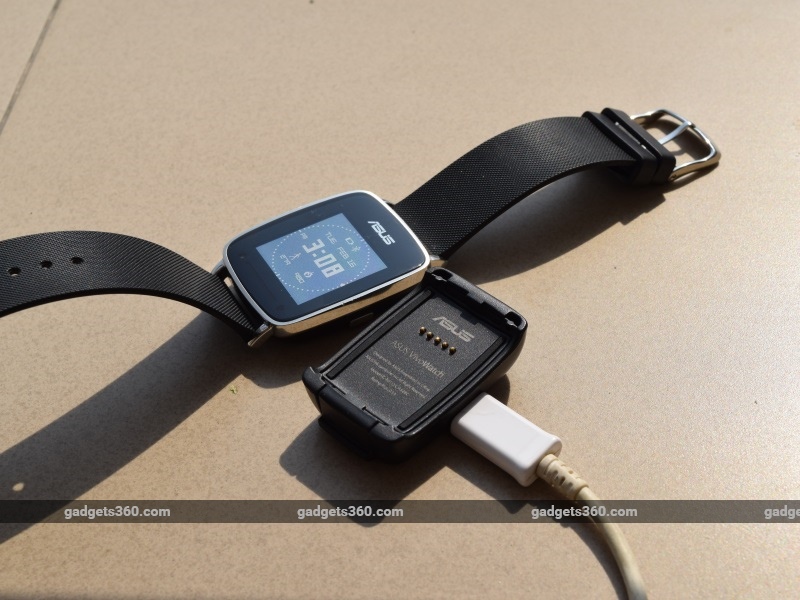 The app
The watch itself runs basic software that works with the companion app (HiVivo on Android 4.3 and above, and HiVivo Lite on iOS 8.1 and above) to log your fitness and wellness data, as well as push notifications from the phone to the watch. The application maintains records on various fitness parameters including stride length and warning heart rate. It also controls settings such as information cloud sync and notification controls.
You can choose from six watch faces and set alarms on the watch, which alert you through vibration. It's also possible to set step and calorie targets, and the app and watch are compatible with Google Fit and Apple Healthkit as well.
The app can push call and message-based notifications, but doesn't sense your phone's notification settings like Android Wear and Samsung devices do. This means that the watch will show notifications and vibrate for everything unless you turn an entire function off. In our case, the constant buzzing and streams from our WhatsApp groups forced us to switch off vibration for all messages, which annoyingly meant that we missed notifications even for private messages. Notifications in general are buggy and inconsistent, and the available watch faces are quite unattractive. Naturally, all of this limits the VivoWatch's appeal.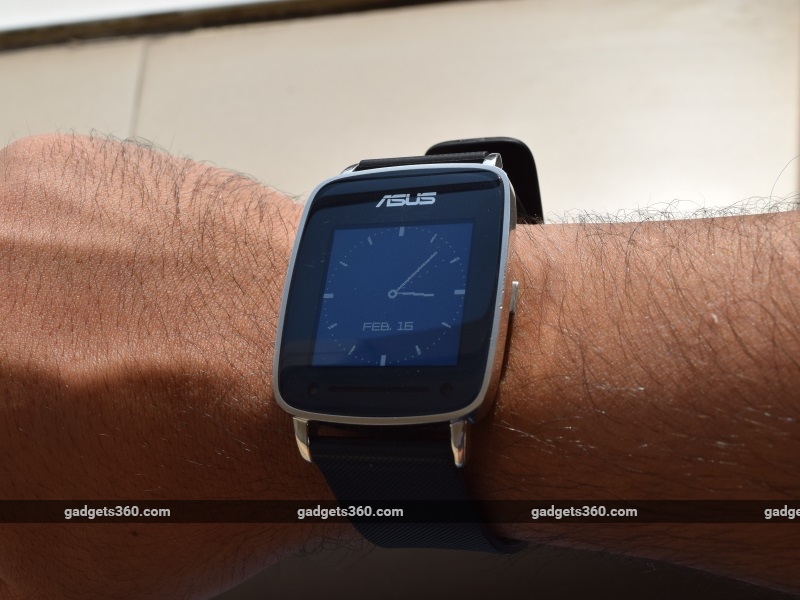 Fitness and health tracking
There are multiple screens that show you fitness and health information, apart from the watch face. Swiping up and down from the home screen shows you sleep and exercise information, as well as your 'happiness index'. This is essentially just a simple numerical score that the watch calculates based on how much exercise and sleep you've gotten in the last one day. This increases with exercise and what the watch considers a good night's sleep.
Swiping left to right shows the step counter, approximate distance covered, activity time, steps taken, calories burned, alarms, heart-rate, and UV index. The watch uses a pedometer to calculate steps taken, and derives some of the other information from the pedometer's data, which is naturally an approximation and not completely accurate. Heart-rate of course uses the built-in sensor, while the UV index is based on the ambient light sensor's input to give you an idea of what conditions are like in your environment. There's also a movement reminder which buzzes when the watch senses you've been sitting still for too long.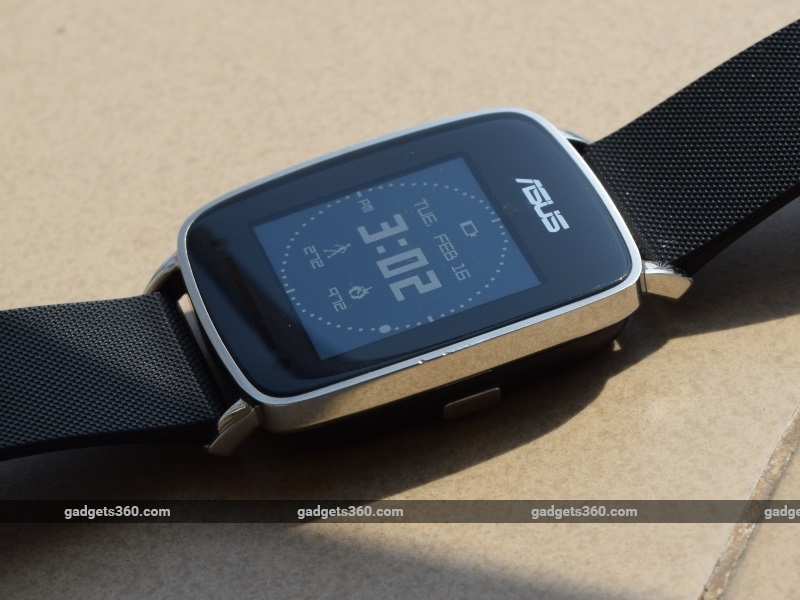 The step tracker is quite inaccurate, though. Steps register even while the watch isn't being worn, and there seems to be a general tendency to exaggerate the actual step count. Activity tracking is basic as well, and unlike with some other trackers, you can't specify what kind of activity you're doing. There's also an LED indicator which gives you colour-coded hints as to whether you're overexerting yourself, which is neat.
The heart-rate sensor is fairly accurate in getting a pulse, but takes far too long to register a reading. It does however keep tracking your pulse through the day and when you're asleep,  without you knowing, and charts this information through the app. The Samsung Gear S2 does this as well, and has a much quicker and seemingly more accurate sensor.
The Asus VivoWatch is also capable of tracking sleep patterns, but this isn't entirely accurate either. Data was all over the place, and if you toss and turn a lot, the watch will assume you're awake even if you aren't. The sleep charts generated by the app are quite confusing, and often too convoluted to bother with. However, on the few occasions that it did accurately detect sleep, it could show total sleep versus deep sleep, which was interesting to know. On the whole, fitness and health tracking are not very reliable. You're better off with a simpler fitness tracker that at least does its job properly.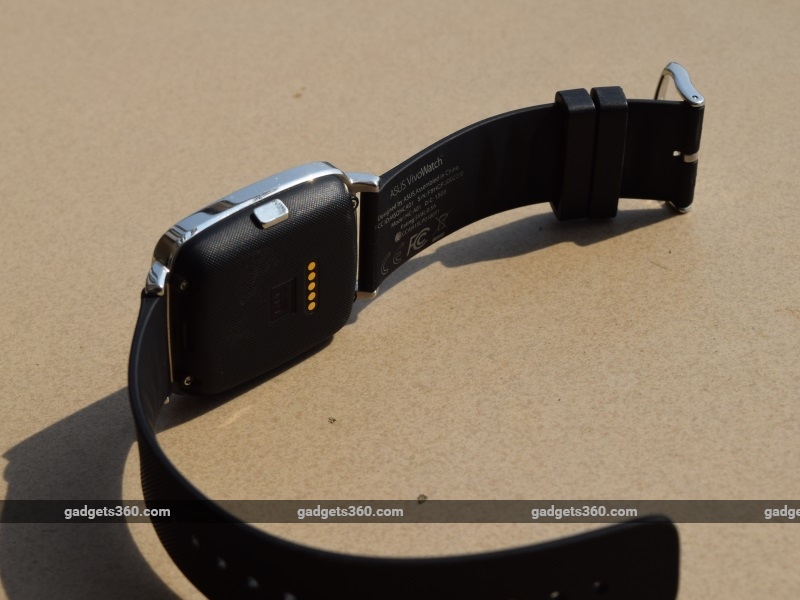 Verdict
The Asus VivoWatch hopes to achieve a balance between smartwatches and fitness trackers, but unfortunately gets neither right. Although it looks good and has acceptably good battery life, its abilities with pushing notifications and tracking fitness and health are iffy. It produces convoluted data that is hard to understand, and tends to overstate a lot of fitness information. At the same time, the default watch faces are anything but interesting.
There are other options available that will do a far better job with fitness tracking. The Fitbit Surge and Charge HR are much better as fitness trackers, and represent far better value for health enthusiasts. And if you want a proper smartwatch, Asus' own ZenWatch 2 makes much more sense. The Asus VivoWatch unfortunately falls short on both counts.
Price (MRP): Rs. 11,499
Pros
Good looks
Decent battery life
IP67 water resistance
Cons
Iffy as a smartwatch
Fitness and health tracking is inaccurate
Companion app produces confusing and complicated data
Ratings (Out of 5)
Design and Features: 4
Tracking and Notifications: 2
Value for money: 3
Overall: 2.5
Download the Gadgets 360 app for Android and iOS to stay up to date with the latest tech news, product reviews, and exclusive deals on the popular mobiles.
["source-ndtv"]