Gaming laptops have always been a niche segment and are usually quite expensive, considering the components needed to run high-end games. It's a sizeable investment for what's essentially a hobby (unless you're a professional gamer) and that is why laptops like the MSI GE62 6QD that we recently reviewed, will mostly appeal to a small group of enthusiasts.
(Also read: High-End Gaming Laptops Are Fun, but I Wouldn't Recommend Buying One)
Asus is trying to change that perception by introducing a mid-range gaming laptop like the R510J. It's not uncommon to find laptops with discrete graphics cards in the Rs. 50,000 to Rs. 70,000 price range but most of them aren't marketed as gaming laptops. The R510J is positioned as an "entry-level" gaming laptop, which means we should expect most modern games to run on medium to high settings.
It's also interesting to note that the new R510J is virtually identical to the Asus R.O.G GL552, which launched last June, in terms of specifications and pricing, however the latter is now replaced by a slightly different SKU at a higher price. Let's see if the R510J is up to the task of being a budget gaming laptop.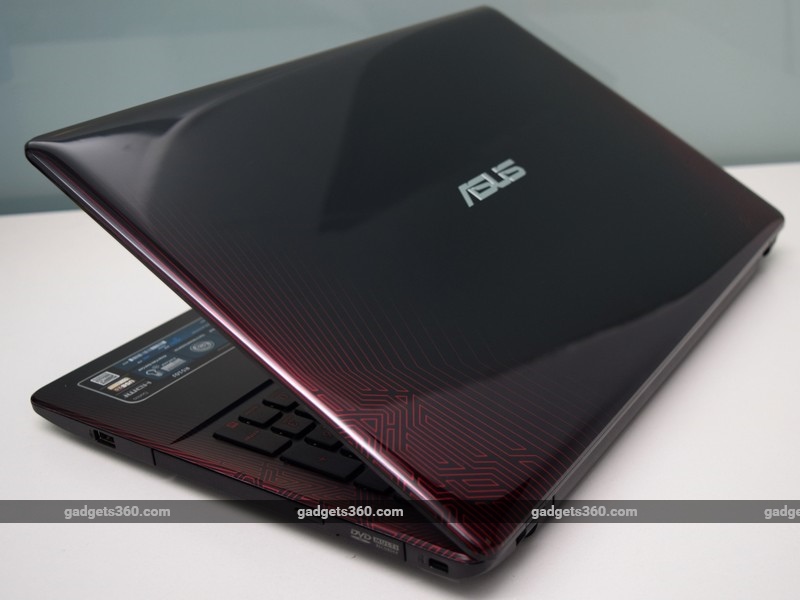 Look and feel
Although it's marketed as a gaming laptop, keep in mind that it's not part of Asus' R.O.G series and that shows in the design of the laptop. In order to avoid the mainstream look, Asus has added its trademark Mayan pattern on the lid and the insides in order to appeal to gamers. The lid is glossy and easily attracts fingerprints but the design helps it stand out. The laptop is slim enough to be portable with a depth of 29mm and is quite hefty at 2.4kg.
You get a 15.6-inch LED backlit display with a full-HD (1080×1920) resolution and anti-glare treatment, which saves you the headache of pesky reflections. Viewing angles aren't the best though since this isn't an IPS panel, but brightness levels are decently high for most lighting conditions.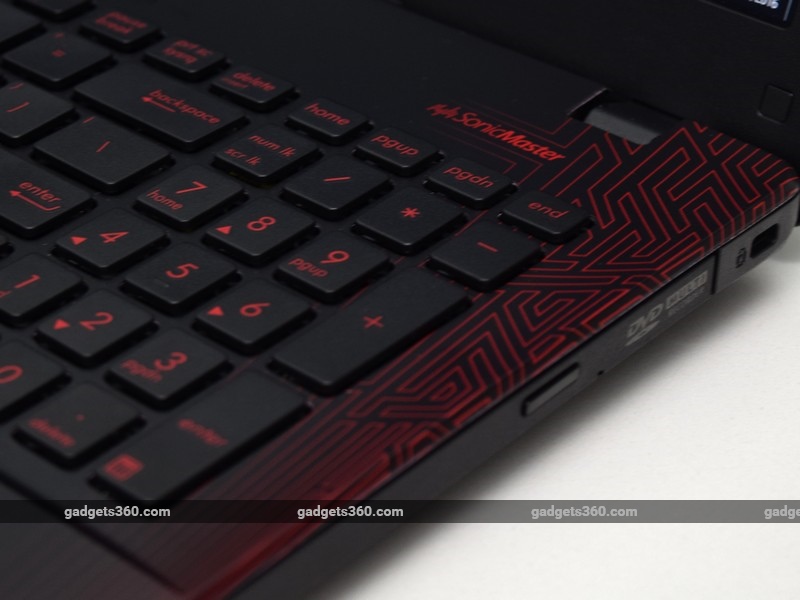 We are greeted with a matte-finish for the insides with the same red and black theme for the keys and trackpad. There's ample room around the palm rest area and the trackpad doesn't get in the way while typing. We miss the fact that the keyboard isn't backlit, which would have been a good value addition for a gaming laptop. If not the whole keyboard, then at least the WSAD keys could have been backlit. The keys themselves have good spacing and are decently sized but feel too spongy and have a lot of travel which isn't very comfortable for gaming. The trackpad is decently large but the left and right buttons aren't separate and require a lot of effort to press.
There's the usual set of connectivity options like a DVD writer, 2x USB 3.0 ports, 1x USB 2.0 port, a headphone/microphone combo jack, LAN, HDMI and VGA. The SD card reader is placed at the bottom, facing frontwards, along with the status lights. The webcam is also only VGA and not HD. The exhaust vents are placed on the left of the laptop, which does make this side quite warm even when you're not gaming.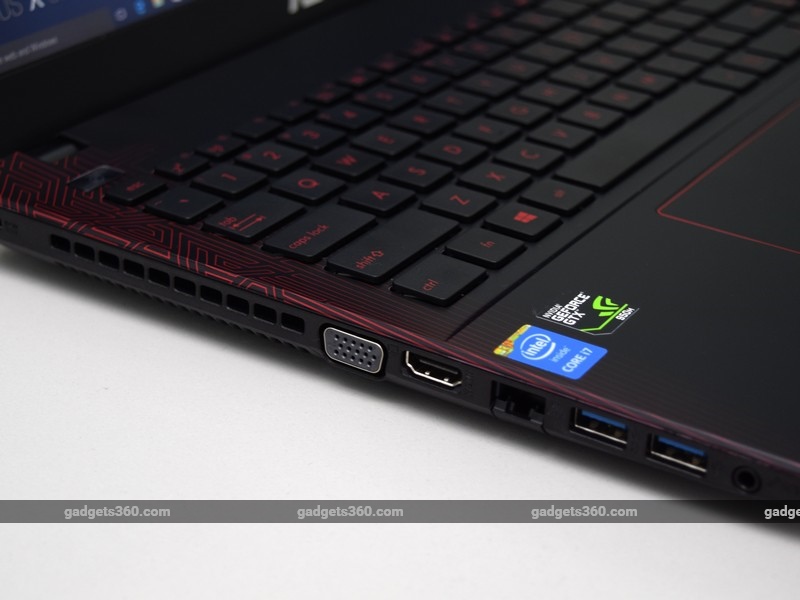 The laptop is propped up on four rubber feet which provide ample grip for most surfaces. There are intake vents at the bottom and Asus has provided a panel which can be unscrewed to access the RAM modules.
The R510J doesn't get any special treatment in terms of design and build that would justify its positioning as a gaming laptop and it feels like a mainstream R-series laptop with snazzy decals. The plastics used for the chassis don't feel particularly premium either. The screen also has too much flex and the lid doesn't offer much in terms of protection as the pixels easily distort if you press the lid.
Specifications and software
Asus has gone with a slightly older but still very potent Haswell platform for the R510J. At its core is an Intel Core i7-4720HQ quad-core processor, running at 2.6GHz and the ability to turbo up to 3.6GHz. There's a combination of a Samsung 4GB DDR3 replaceable memory module and another 4GB memory chip that's soldered onto the motherboard, giving you a total of 8GB RAM in dual-channel mode. Graphics are handled by an Nvidia GeForce GTX 950M with 3GB DDR3 memory, which also supports Optimus so you can alternate between the discrete card and the HD 4600 graphics, depending on the application being run.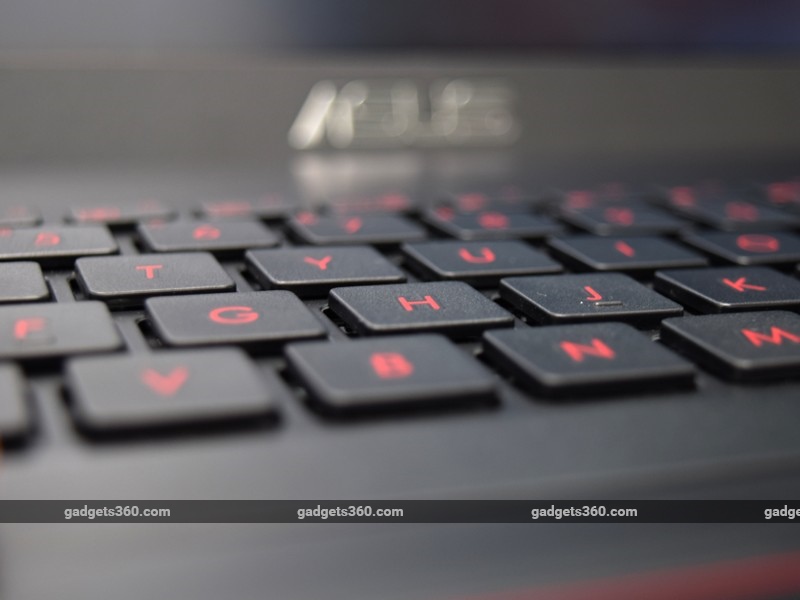 Other specifications include Windows 10 Home 64-bit, a Toshiba 1TB 5400rpm hard disk, Wi-Fi 802.11b/g/n, Bluetooth 4.0 and a 4-cell 44WHr battery. While the core specifications are good, it would have been nice if Asus would have paid more attention to the little things. For instance, an SSD would have been very useful for speeding up loading times in Windows or games. If not that, then at least provide a faster 7200rpm drive considering its gaming theme. Wi-Fi 802.11ac would have also been a good value-add feature.
Windows 10 comes pre-loaded with the typical Asus utilities we've seen in the past. We have live update, Splendid utility, and WebStorage apps. New users of Dropbox will get 25GB of free storage for six months. You also get Avast Secureline, McAfee LiveSafe and Microsoft Office 365 trial. There are few free Windows Store apps pre-installed too like TripAdvisor, Flipboard, and Gameloft games.
Performance
Despite the decently powerful components, Windows and app performance can get a bit sluggish and we feel the slower hard drive and the lack of an SSD is to blame. It takes about a minute from the time you hit the power button when the desktop is actually usable. Application loading times can be slow as well depending on how heavy they are. The bottom left portion of the laptop also tends to get warm pretty easily even if the discrete GPU is not in use.
The laptop easily handles 4K video playback but the audio isn't as loud as we would have liked. Even with the SonicMaster sound enhancements, the audio levels feel a bit weak. This is very evident in gaming although movies and music fare a bit better.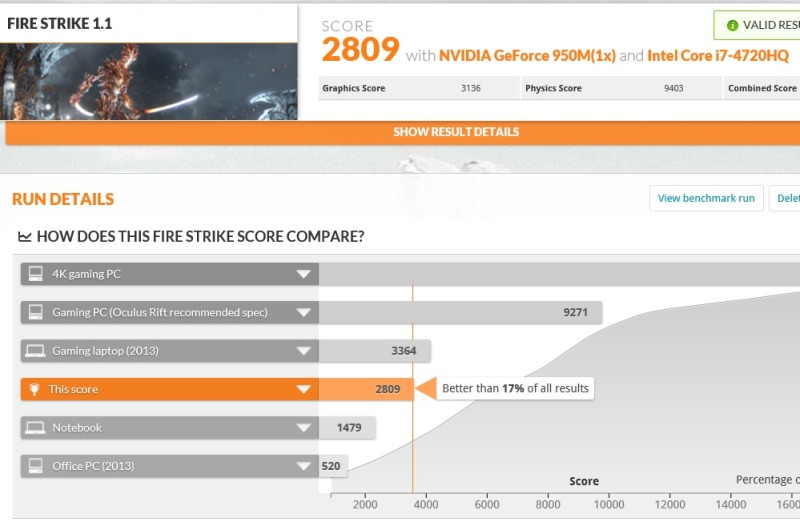 Speaking of gaming, the R510J puts on a good show for an entry-level gaming laptop. In synthetic benchmarks, we managed to get an overall score of 2809 in 3DMark Fire Strike, Cinebench R15 returned 91fps in the OpenGL test and 679 points in the CPU test. In POVRay, we got a trace time of 3 minutes and 5 seconds, which is nearly as good as the HP Omen gaming laptop. In the Unigine Valley benchmark, we got 12.5fps at the native resolution and Ultra settings.
Coming to real-world games, we start with Tomb Raider which is known to be highly scalable.  With 1080p and Ultra settings, we managed to get and average frame-rate of 27fps in the benchmark. During actual gameplay, we were getting around 27fps on average with slight dips when running through forest areas. While gameplay was smooth, it wasn't consistent so we had to drop the quality settings further for a more comfortable frame-rate.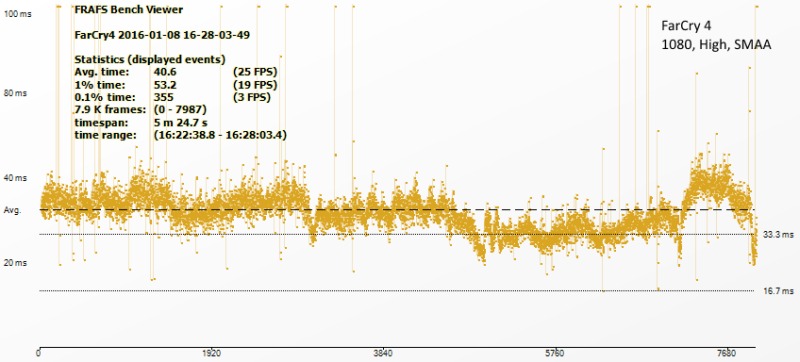 In FarCry 4, we managed to get playable frame-rates only after dropping the quality level down to High. Even with this, we noticed random freezes and stutter during gameplay as the 25fps average frame-rate was only borderline playable. We had to sacrifice a bit more eye-candy in order to get the game running smoothly.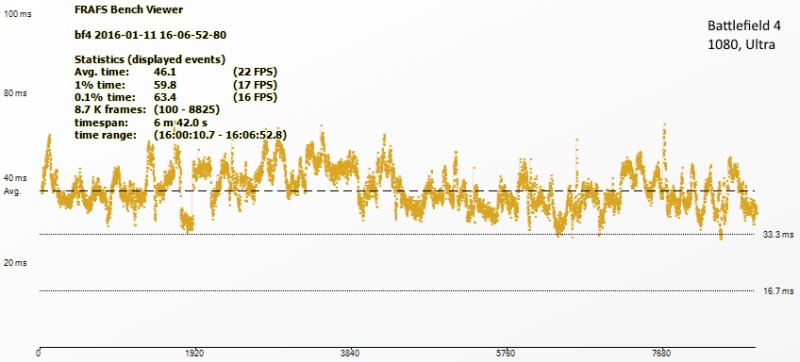 Next up was Battlefield 4, which managed to deliver an average frame-rate of 22fps with 1080p at the Ultra preset. Gameplay wasn't the smoothest at this setting but playable if you wish to have all most of the eye-candy turned up.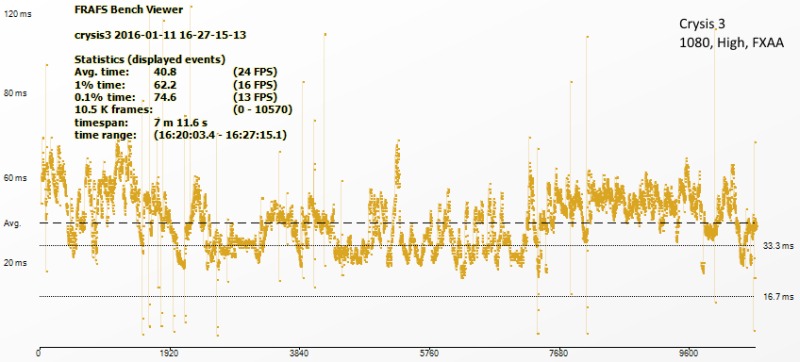 Finally, we played the opening mission of Crysis 3, which has a healthy mix of outdoor and indoor fire fights. We had to dial down the settings to High with FXAA and full-HD resolution. We averaged 24fps, but naturally got a higher frame-rate indoors while we noticed slight dips during the outdoor fights.
During gameplay, the left side of the laptop gets scolding hot we wouldn't exactly recommend playing on your lap. This was in an air-conditioned room so the temperatures can go higher in a room without an AC. The laptop doesn't get particularly noisy but you can hear the fans spinning away to keep it cool. The machine could have used some R.O.G-styled thermal insulation with a better intake and exhaust system as this chassis doesn't seem to have been designed to house such powerful components.
The laptop ran for 1 hour and 23 minutes in Battery Eater Pro which is just about average. During actual usage, we managed roughly 3 hours with a mix of Internet usage and movies.
Verdict
The Asus R510J is priced at Rs. 69,990, which feels a bit steep considering you can get the updated R.O.G GL522JX with a faster hard drive, backlit keys, HD webcam and better CPU for a bit more. More than the specs however, you'll be getting a much better chassis, one that is actually built to withstand the heat these CPUs churn out. The R510J does have some good qualities like decent full-HD gaming performance, good looks, anti-glare display and good fit and finish of the chassis. However, it does get uncomfortably hot during gaming, the keys are too spongy and aren't backlit, the plastics use for the chassis feel weak and little things like an HD webcam and 802.11ac Wi-Fi are missing.
We recommend sticking with the R.O.G series from Asus when it comes to gaming laptops as they are generally designed with gaming in mind.
Price (MRP): Rs. 69,990

Pros
Anti-glare display
Decent full-HD gaming performance
Cons
5400rpm drive; no SSD
Heats up a lot while gaming
No backlit keys
Average battery life
Ratings (Out of 5)
Design: 3
Display: 3
Performance: 3.5
Software: 3.5
Value for Money: 2.5
Overall: 3
["Source-Gadgets"]