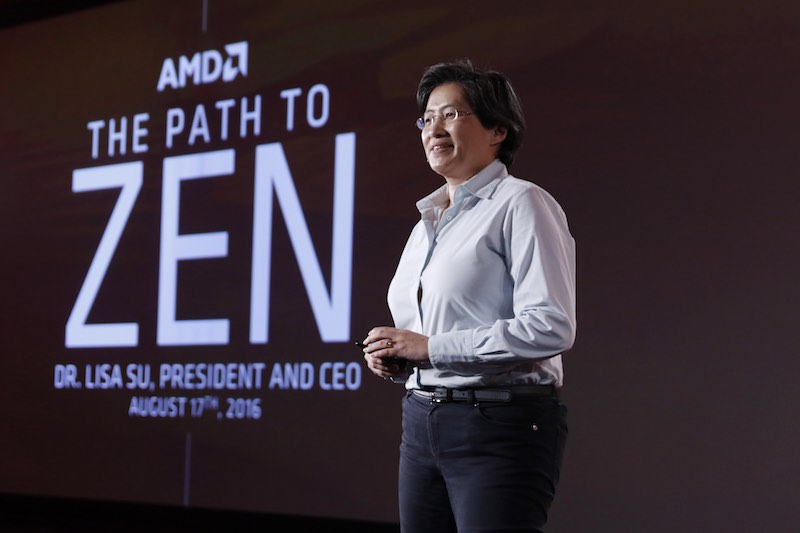 HIGHLIGHTS
AMD desperately needs Zen to be a success in the high-end PC space
The new architecture is a complete reboot for the company
Upcoming 'Summit Ridge' CPUs will have 8 cores and 8MB of L3 cache
AMD's long-awaited Zen microarchitecture is finally ready to be shown off to the world, and the company held a small event in San Francisco on Wednesday, timed deliberately to coincide with the Intel Developer Forum. AMD CEO Lisa Su and CTO Mark Papermaster shared a few concrete details about the Zen architecture, although no specific CPU models were unveiled. It was also announced that products would not ship before the end of this year as earlier expected.
Zen is a completely new architecture, which the company has been working on in the hopes of reclaiming market share lost by its current lineup of FX-series CPUs and A-series APUs, most of which have been underwhelming. AMD has been unable to match Intel at the high end of the performance scale for several years now and has had to cut prices drastically in order to remain an option at the low end. Also, while AMD has not progressed beyond the 28nm fabrication process, Intel has been able to go down to 14nm and was till recently expected to achieve 10nm fabrication this year. The stakes for AMD therefore cannot be overstated.
AMD pointed out its successes in the games console market, including the fact that Microsoft will use an AMD processor in its upcoming Xbox One 'Project Scorpio' refresh, as well as the positive reception its new Radeon RX-series graphics cards have had. CEO Lisa Su described the company's current and upcoming offerings as its "most competitive product lineup in a decade". Overall, AMD is claiming that Zen offers 40 percent more performance per clock cycle than its current products.
Zen will introduce a number of new techniques and features, starting with a new pipeline with improved branch prediction and a new micro-op cache resulting in improved efficiency in terms of instructions per clock cycle. A typical Zen CPU will have 8MB of shared L3 cache, while each core will have a 512K L2 cache as well as independent L1 caches for data and instructions. The result should be up to 5X better cache bandwidth to a core. AMD is no longer sharing resources between cores, which enables it to offer simultaneous multi-threading more like Intel's Hyper-Threading technique. Each core can execute two threads, both of which appear equal to the OS and software.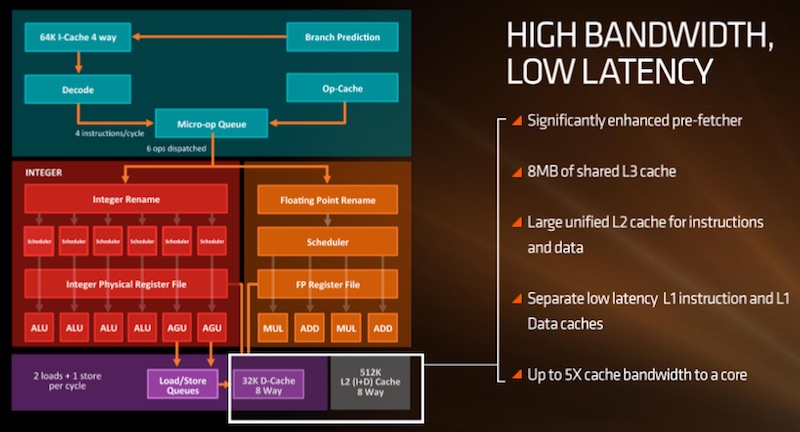 Zen CPUs will be fabricated by GlobalFoundries on a 14nm 3D FinFET process which should have a significantly positive impact on heat generation and power consumption, allowing AMD to push into thin and light notebooks which have been powered by Intel for years now. Power efficiency has also factored into the design of the architecture, and different blocks will be able to have their power reduced or turned off when they aren't needed.
While exact product SKUs, speeds, TDPs, core counts and of course prices were not shared, we do know what form at least some of them will take. The company is using the code name 'Summit Ridge' for at least one 8-core, 16-thread CPU which will be aimed at high-end enthusiasts and gamers. AMD compared a Summit Ridge engineering sample to Intel's top-of-the-line 8-core Broadwell-E Core i7-6900K Extreme Edition CPU at its event, though that particular sample was down-clocked to match the Summit Ridge at 3GHz. The company is claiming equivalent or better performance between architectures, though only one very specific Blender 3D workload was compared.
Desktop Zen CPus like the Summit Ridge will require new motherboards and chipsets, which AMD is delivering in the form of the Socket AM4 platform. This is another area in which AMD has lagged, but AM4 will correct that with support for modern IO including PCIe 3.0, NVMe, DDR4 RAM, and 10Gbps USB 3.1.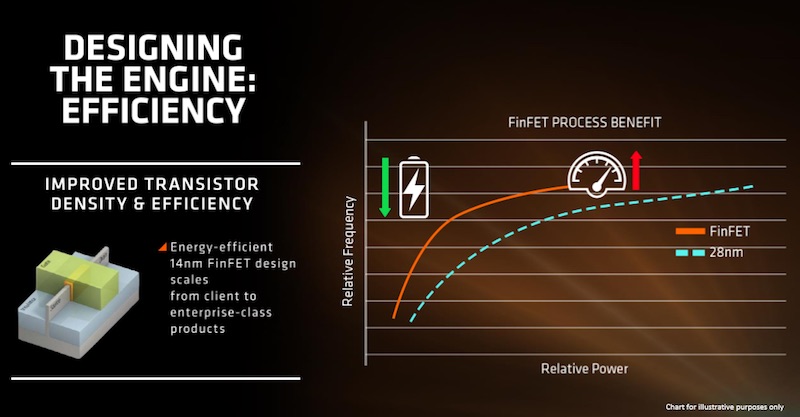 There will also be a server SoC product, codenamed 'Naples', with 32 cores, which will be capable of running in multi-socket configurations. While the mobile and embedded markets were mentioned, no specific products were named. We'll have to wait for more information, though at least some new details could be released as early as next week when AMD presents its Zen architecture at the annual Hot Chips conference.
While a resurgent AMD would be great for consumers and for the industry as a whole, there isn't enough information yet to be able to guess how successful Zen might be. The comparison to Intel's latest and greatest architecture is a positive sign, even with only one demonstration in a very specific test with parameters and conditions chosen by AMD itself.
Share a screenshot and win Samsung smartphones worth Rs. 90,000 by participating in the #BrowseFaster contest.
["Source-Gadgets"]