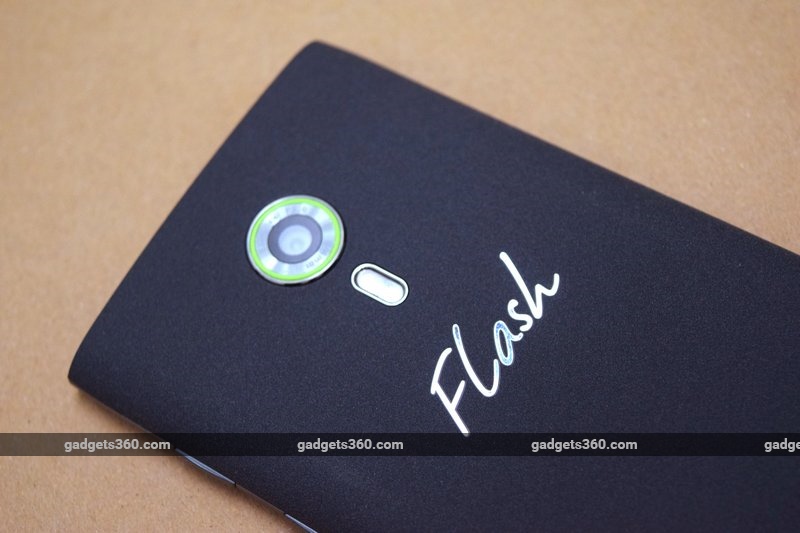 Alcatel Onetouch, the joint venture between France's Alcatel and China's TCL, has been a background player in the Indian market for a while now. Several other Chinese companies have entered and made big splashes – not all have sustained their momentum, but Alcatel has popped up every now and then with a new release, reminding us that it's here.
The new Alcatel Flash 2 might raise the company's profile in India. It has a reasonable price and some interesting looks and features that set it apart in a very crowded space. We're eager to see what this device has in store for us.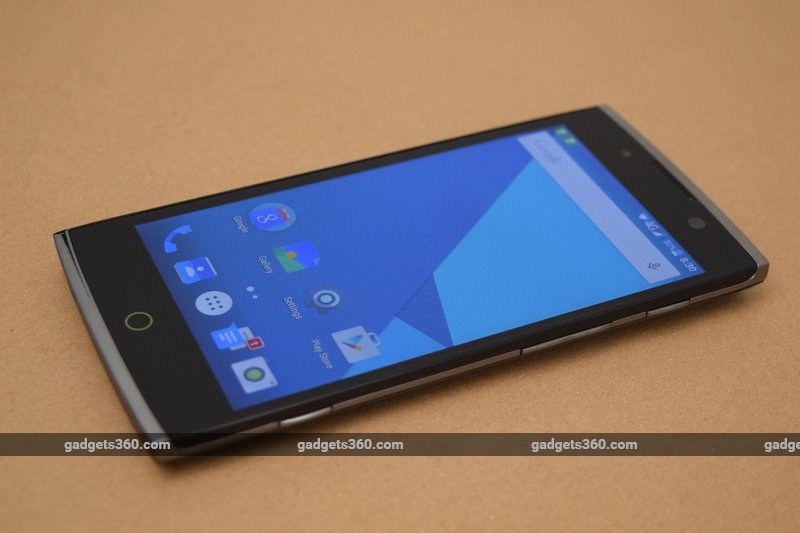 Look and feel
The Alcatel Flash 2 has a pretty bold look which most other manufacturers seem to shy away from. At first glance it seems like a premium phone, but on closer inspection the shiny chrome frame which cradles the black front face and wraps around the sides is actually plastic. The front face is black and is bordered by subtle plastic strips which almost make it look as though the front glass wraps around the sides.
The earpiece grille up top is flanked by the front-facing camera and its flash, which gives this phone its name. On the bottom is a large green circle representing the Home button. The Back and Recents buttons on either side of it aren't immediately visible, but their equally large labels light up in white when touched.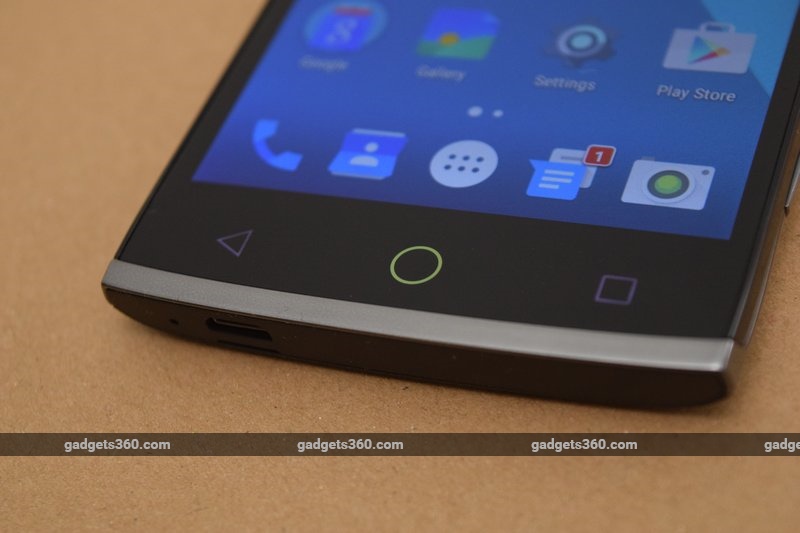 You're either going to love or hate the rear – it has the same rough, sandpapery finish as the OnePlus One, which we found ourselves unhappy with over a long period of usage. It's great for grip, but it's really uncomfortable in the hand, and tends to pick up dust and scuffs very easily. Thankfully, Alcatal bundles a snap-on flip cover which replaces this panel. This one has a fake leather finish – complete with fake stitching. If you choose to use the flip cover, you'll be able to interact with the phone's touchscreen through a small transparent window.
The metallic camera bump protrudes a little and has another green ring, which really pops. All in a line below it are the dual-tone camera flash, a giant Flash logo in running script, a subtle Alcatel Onetouch logo, and the phone's loudspeaker. There are two Micro-SIM slots and a microSD slot beneath the rear cover. The battery is visible, but isn't removable.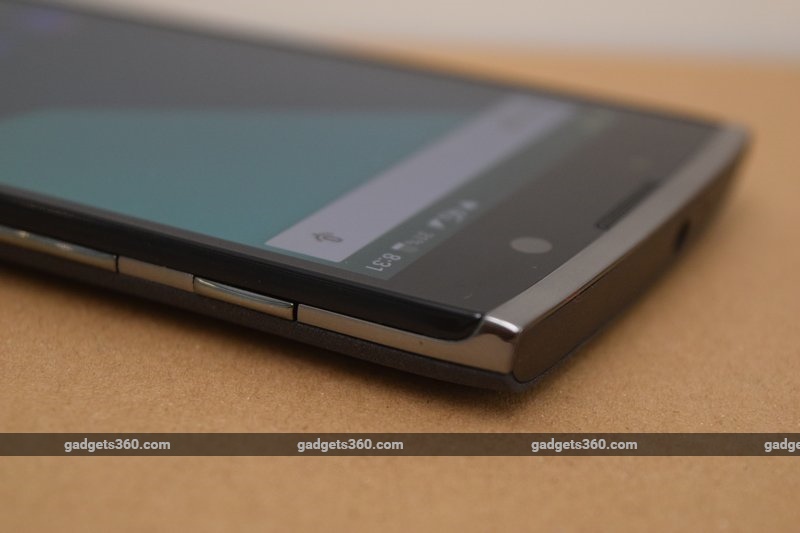 The Micro-USB port is on the bottom and the 3.5mm audio socket is on top. The left is totally blank, while the power and volume buttons are on the right. There's also a camera shutter button on the lower right – not something commonly seen on Android phones these days. Strangely, you can't use this button to launch the camera app from standby; you have to use the on-screen shortcut.
Specifications and software
We weren't expecting fireworks at this price point, and sure enough, the Alcatel Flash 2 is built out of typical workhorse-class components. There's a Mediatek MT6753 processor with eight CPU cores running at 1.3GHz and integrated Mali-T720 graphics. There's also 2GB of RAM. 16GB of storage is pretty standard, but microSD card support goes all the way up to 128GB and USB-OTG works as well.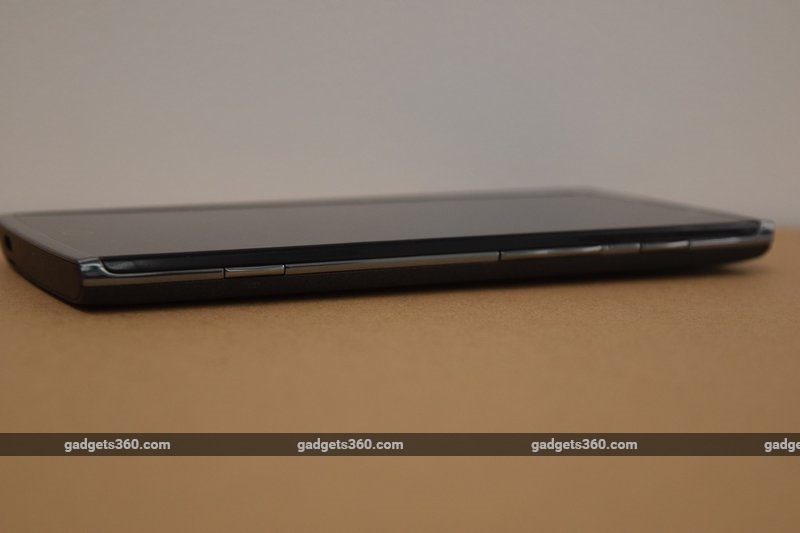 The 5-inch screen has a predictable HD 720×1280 resolution. The rear camera has a 13-megapixel sensor and the one in front has a 5-megapixel one. Video recording tops out at 1080p, 30fps. There's Wi-Fi b/g/n, Bluetooth 4.0, A-GPS, and 4G on Indian networks. The battery has an impressive 3000mAh capacity.
The phone runs Android 5.1 with very few visible customisations – not even a new icon set – which is a huge relief. A shortcut called Audio Profiles lets you quickly switch between normal, silent, meeting and outdoor modes, and another called Click Clear which isn't documented but seems to terminate background apps to free up RAM. The default system keyboard has been replaced with one called TouchPal, which we found a bit crude.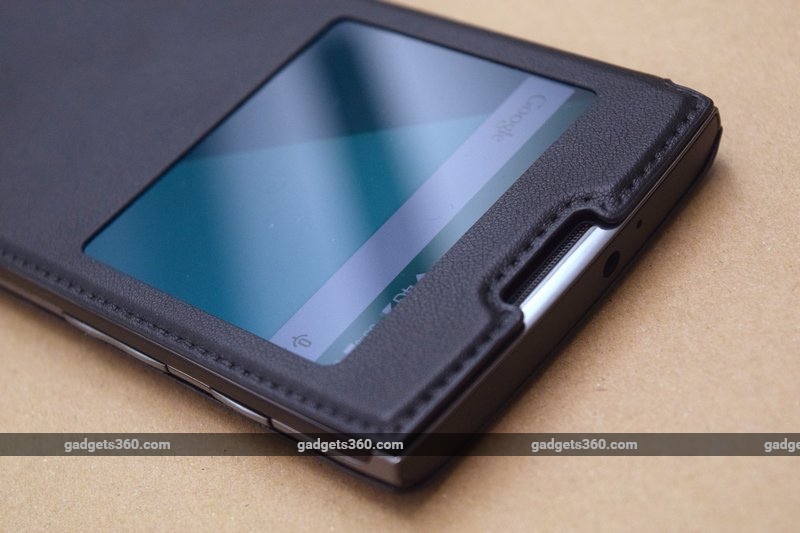 Alcatel is pushing the Flash 2 as a photography-centric phone, and as such the camera app has quite a lot going on. There are shortcuts for the flash, timer and smile detection right within the viewfinder. A settings menu reveals all the scene modes including Face Beauty, HDR, Super Fine, Multi Angle, and Live Photo.
Whatsapp, Twitter, Facebook and AVG Antivirus come presinstalled. There are also two small utilities called Auto Start Manager and Backup & Restore which both do pretty much what their names suggest. Finally, there's a third-party app store called zApp, which we really don't see any need for.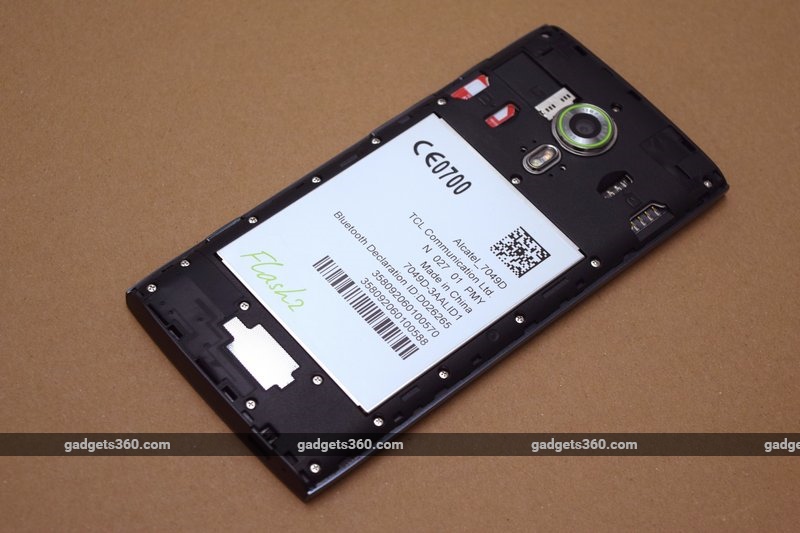 Performance
We found no major problems with the performance of the Alcatel Flash 2 in terms of day-to-day usage. The screen isn't extremely sharp and colours are a little muted, but it does have good viewing angles and isn't hard to deal with under harsh sunlight. The loudspeaker is tinny and harsh, but surprisingly loud. The rear did get a bit warm when using the camera for long periods.
The phone didn't always latch on to 4G networks, and needed a quick toggle of the airplane mode shortcut to force it. Voice call quality was fine. The bundled accessories aren't of very high quality, especially the headset. The phone also seemed to take a really long time to charge.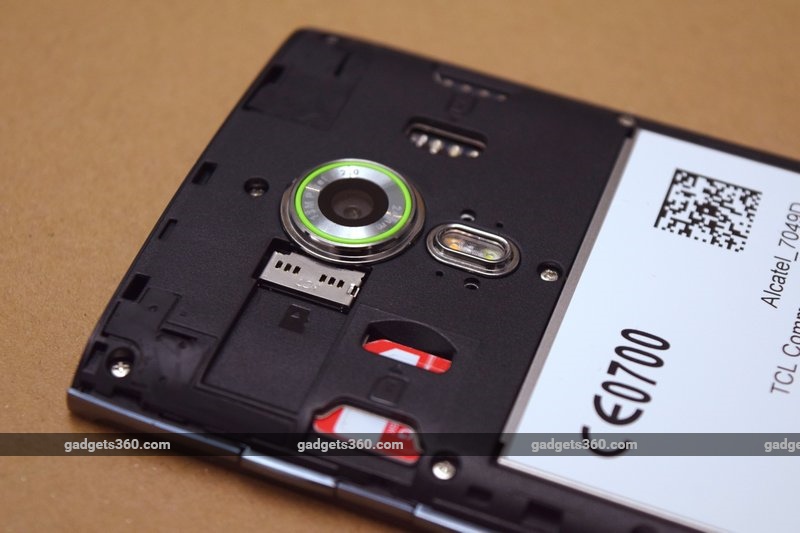 Benchmark scores were pretty good for a sub-Rs. 10,000 phone. We got 34,759 points in AnTuTu and 18,137 overall in Quadrant. Graphics tests were a mixed bag, with 20fps in GFXbench, explained by the low-res screen, and 3,763 in 3DMark Ice Storm Extreme. The battery lasted for 8 hours, 31 minutes in our video loop test and easily lasted through a day of heavy usage, including gaming and Web surfing over 4G.
Image quality seemed good on the phone, but when we zoomed in to full size, it was clear that details were just lost. No matter what the subject matter was, textures were messy and there seemed to be excessive compression. Focus also sometimes seemed to be off. Shots taken at night were poor, with a lot of noise and very little definition of subjects. Many of our sample shots were simply not worth using. We were quite disappointed overall, and we've seen much better from phones that cost even less than this. The front-facing camera did a reasonable job and its flash wasn't overpowering as we have sometimes seen. It's a good addition, but the overall camera performance is weak, especially for a phone marketed for that reason.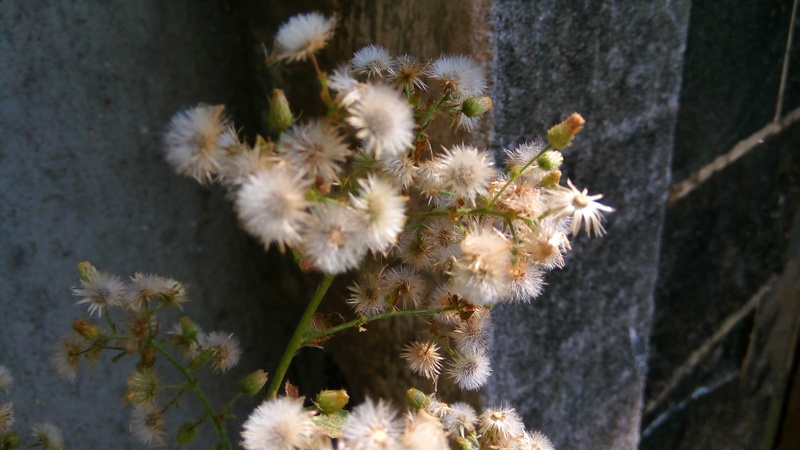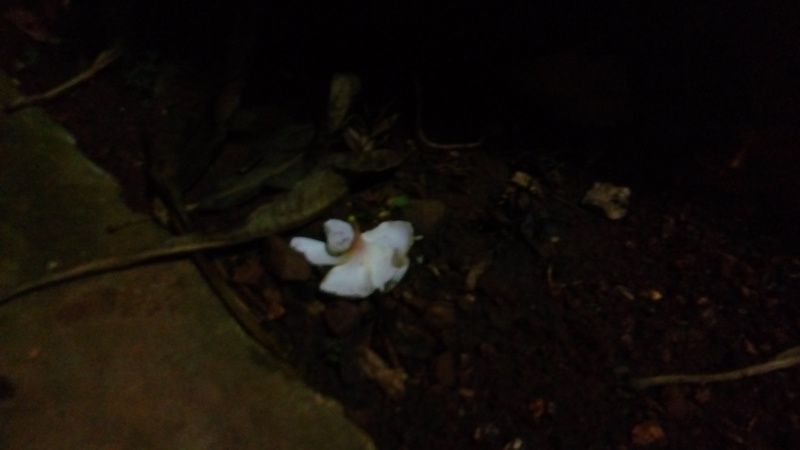 (Click to see full size)
Verdict
The Alcatel Flash 2 is an interesting phone with a lot of personality. Its bold styling will appeal to those who don't want a cookie-cutter phone. Performance is good, but if you're looking for disruptive features such as a fingerprint reader or full-HD screen, you'll have to look elsewhere. While those things might be nice to have, the Flash 2 covers all the essentials and you won't be left wanting. Camera quality might not be the best, but battery life is good. You'll have to decide which features are the most important for you.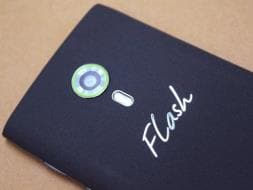 Alcatel Flash 2 in pictures
Download the Gadgets 360 app for Android and iOS to stay up to date with the latest tech news, product reviews, and exclusive deals on the popular mobiles.
Alcatel Flash 2
ALSO SEE

Alcatel Onetouch Flash Mini 4031D(Dark Grey, 4 GB)

₹ 4,015

Alcatel Flash 2(Volcanic Grey, 16 GB)

₹ 8,999

Lenovo K3 Note(Black, 16 GB)

₹ 9,999