IN THE WORLD of beauty and personal maintenance, we're preached to daily about the things we should be doing to keep up appearances.
And with such constant hounding, comes a lot of mixed messaging and at an incredibly fast pace.
Trends, habits and hot products appear as quickly as they vanish from our Instagram feeds forever, leaving little time to reminisce about some of the hyped styles we bought into for however long.
And while not all of these styles are necessarily bad and many of you might still embrace them, they're not the beauty buzz words they used to be.
Here are 6 trends that have seen the buzz die down in recent years.
1. Eyelash primer
With enough to think about in the mornings, why did we think adding eyelash primer was a good idea?
In a rush to get out the door looking somewhat decent, waiting for the first layer of eyelash product to dry before going in with mascara was a trend that was never going to last. Now, there are those who swear by this prep-step, but I am not one of them.
Life is too short.
2. Contour face-mapping
In the early days of contouring and highlighting, we painted on contrasting makeup haphazardly as we followed a fairly dodgy YouTube tutorial. But then, things escalated.
No longer was it random lines, it was carefully placed, super-symmetrical mapping of our faces remembered fondly with this throwback pic of contour queen Kim K.
3. Ombre lips
Because what's better than one lipstick? Yes, at one point, most of us who were open to playing around with our makeup jumped aboard the ombre lips bangwagon and looking back now, it's not the worst.
In some form, we still do this today, although we'd hope it's not so obvious.
4. Side shave
If you weren't contemplating shaving half your head off in 2014, were you even on Instagram in 2014? It was one of the biggest hair trends of the time and was sported by Demi Lovato for long enough for many to go for the chop.
It's a hairstyle that left many growing it out for years or forced to cut the other side in order to balance it out.
5. Colour correcting
I'm stressed just looking at this. I'm all for a little green stick when I've got a little spot-inflicted redness, but this is just lunacy,
Nobody needs 8 different colours painted all over their face to create a 'flawless base' because firstly, there's no such thing as a flawless base and secondly, you're definitely not going to get there with 8 face paints dotted all over the gaff.
6. Short layers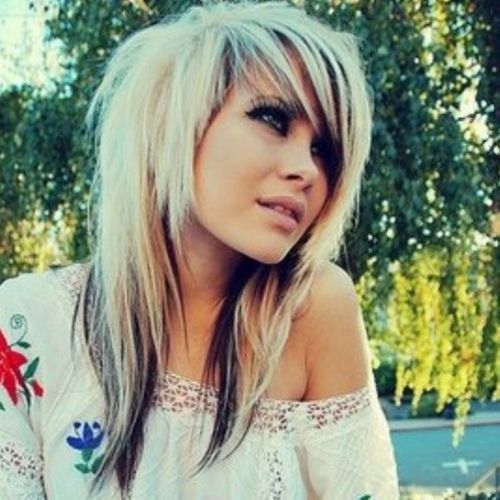 Source: Short Emo Haircuts Tips.
Some of us are still trying to get over this phase as we continue to go for regular haircuts in the hopes of finally growing out our short layers from 2008.
The shorter the better, was the attitude in those days and you could say goodbye to any sort of upstyle because you'd always be left with some type of backwards mullet.
["source=dailyedge"]