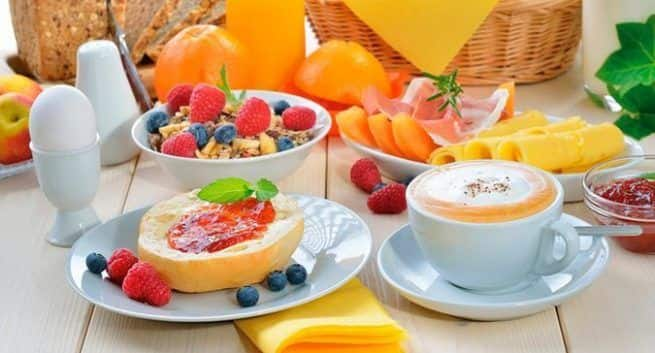 There is no doubt that breakfast is and should be the biggest and the most nutritious of all meals. After all, that is the first meal of the day, one that will set you up for all the work you've planned for the rest of the day. A number of scientific studies have shown that having a good breakfast can help you achieve weight loss, keep your heart healthy and your energy levels up throughout the day. This is why you need to constantly look for innovative and interesting breakfast recipe ideas. Chef Swasti Aggarwal ( Food Strategist, Foodhall India) shares with us 3 breakfast recipes that are healthy and delicious and that'll help you start your day on a sweet note, literally.
Lemon rosemary scones
Ingredients
 1/3 cup cold butter
 2 cups flour, plus a little extra for dusting
 1 tsp baking powder
 1 tsp castor sugar/ sugarfree alternative
 Pinch of sea salt
 Zest of 1 big Meyer lemon
 A handful of fresh rosemary
 1 egg
 2 tbsp cold milk
 Egg wash for brushing (egg white + water mixed)
Method
1. Preheat the oven to 200 degrees C. In a mixing bowl, place the butter, flour, baking powder, sugar and sea salt. Using your fingers, mix all the ingredients until the butter is incorporated well. In the centre of the dough, make a well and crack the eggs into it along with the milk. Fold it in with a spatula.
2. Add the lemon zest and rosemary. Add a tiny splash of milk if needed, until you have a soft, dry
dough. Wrap in clingfilm and pop it into the fridge for 15 minutes.
3. Roll the dough out on a lightly floured surface and cut using a round cutter. This helps in even
rising of the dough. Brush the top of each scone with egg wash and lay them out on a baking
tray lined with baking paper.
4. Bake in the oven for 12 to 15 minutes, or until risen and golden.
5. Get the scones out of the oven and serve warm with clotted cream and a little jam.
Matcha waffles
Ingredients
 3 whole eggs
 1 cup plain
cashews
 ⅓ cup almond milk
 3 tbsp pure maple
syrup
 3 tbsp extra virgin
coconut oil
 1 tbsp matcha tea
powder
 ¼ tsp salt
 ¾ tsp baking soda
 3 tbsp coconut
flour
Method
1. Heat waffle iron to and lightly spray with non-stick cooking oil. You may even brush on a little coconut oil if you don't have a spray.
2. Blender together eggs, cashews, almond milk, maple syrup, coconut oil and matcha tea powder until
smooth.
3. Add salt, baking soda and coconut flour and blend again until everything has mixed through.
4. Spoon 1 to 2 tablespoons of batter into waffle iron and cook for 1 to 2 minutes, or until done.
5. Lift the lid, remove the waffle from the iron and set
aside.
6. Repeat with remaining batter.
Chocolate avocado pudding
Ingredients
 2 whole ripe avocado
 1 whole vanilla bean
 ½ cup unsweetened cocoa powder
 ½ cup maple syrup
 ¼ cup agave nectar
 ¼ cup fresh orange juice
 ½ tsp sea salt
 ¾ cup hot water
 ½ cup chopped pistachios to garnish
Method
1. Scoop out the flesh of the avocados.
2. Split the vanilla beans lengthwise and scrape out the seeds.
3. In a food processor, combine the avocado, vanilla, cocoa powder with maple syrup and agave
nectar.
4. Gradually add the orange juice and salt.
5. While the food processor is still running, drizzle in the hot water. You will see the mixture
looking creamy. If it doesn't, add some more orange juice.
6. Diving this pudding into different cups or serving bowls while it is still warm.
7. Refrigerate for a few hours before serving. Garnish with chopped pistachios.
["source=thehealthsite"]